Doing this for two hours per week might help you feel better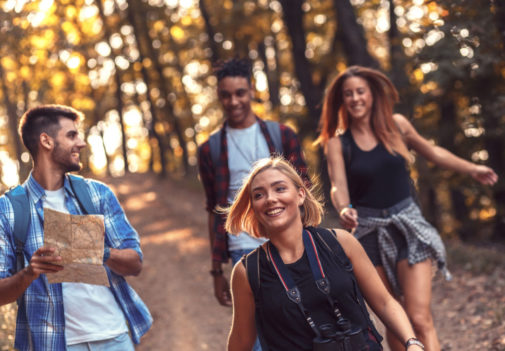 Autumn's cooler temperatures and colorful foliage in many parts of the country are the perfect excuses for many people to get out of the house for a walk, run or other outdoor activity. Previous scientific research has shown exposure to outdoor green spaces can reduce depression, anxiety and health risks such as high blood pressure, obesity and diabetes.
But a new study, the world's largest scientific look at people's weekly contact with the natural world, sheds light on just how much time people should spend in nature to reap the measurable positive effects on health and happiness.
Data suggests that those who visit parks, forest preserves, urban green spaces and other natural outdoor spaces for at least two hours a week are significantly more likely to report good health and higher psychological well-being than those who don't get out into nature at all during an average week.
The two-hour rule holds true when applied to both men and women, to older and younger adults, across different occupational and ethnic groups, among those living in diverse socio-economic circumstances and even among people with chronic illnesses or disabilities.
Notably, the research indicates it doesn't matter whether the 120 minutes was all in a single visit or over several shorter visits.
"These findings add to our growing body of evidence that getting outside and into nature can have a very real positive effect on health and wellness," says Dr. Enrique Saguil, an Advocate Medical Group family practice physician on staff at Advocate Sherman Hospital in Elgin, Ill. "And, it's good to have an established guideline for planning and tracking time outdoors, so that people can enjoy the many benefits of spending time in the natural world."
Dr. Saguil points out that according to the study results, no substantial benefits were found for people who visited natural settings for less than 120 minutes a week.
Related Posts
Comments
About the Author
Nate Llewellyn, health enews contributor, is a manager of public affairs at Advocate Medical Group. Nate began his career as a journalist and builds daily on his nearly 20 years of writing experience. He spends most of his free time following his wife to their two sons' various activities.