Head to Thanksgiving dinner with these four healthy-eating tips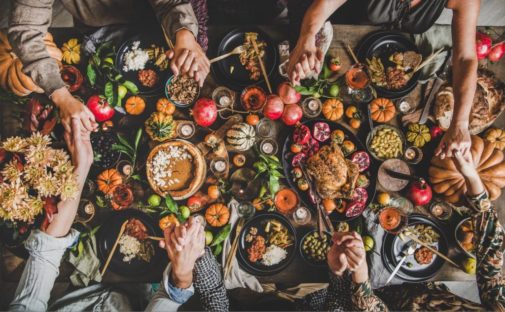 The winter holidays are a merry time of the year when we can spend quality time with family and friends. Usually, that also means extra time spent breaking bread with loved ones and no shortage of delicious and hearty food.
While quality time with loved ones offers its own set of benefits, the holidays can also lend itself to overindulging on rich food and drink, which can pose health concerns like weight gain, heart issues or diabetes later on.
Barbara Melendi, a registered dietitian nutritionist at Advocate Illinois Masonic Medical Center in Chicago, offers a few tips and tricks to help strike a balance between happy and healthful eating during this holiday season (and beyond.)
Plan ahead: If you know you have a big celebration coming up, take active steps to curb your overall caloric intake. "Take small steps," Melendi suggests. "Maybe get in an extra day at the gym, eat nutritious meals during the week or park a little further from your office to get some extra steps in. This way, when you go to that holiday party this weekend, you can let loose a little bit."
Contribute or seek out the healthy option: Potluck meals tend to be a popular way for loved ones to get together. If you're invited to partake in a potluck, bring a healthy dish that you enjoy eating so that you can be sure there is at least one tasty but healthy option for you to enjoy. "Other people might appreciate having a healthy option, as well," Melendi says.
Swap sugar where you can: Limiting how much sugar or fat you consume shouldn't stop you from enjoying the food you love. Melendi modifies a banana pudding recipe with more bananas and low-fat options to make this scrumptious dessert easier on the heart and body. "A fruit salad is another one of my favorites. It's a healthy potluck or holiday party option that's both nutritious and satisfying for the sweet tooth," Melendi says. "You can add a little bit of mint to the dish for some flair!"
Pay attention to what's in your cup: It's one thing to monitor what you put on your plate, but what about what you put in your cup? The holidays are rife with alcoholic or other sugary drinks. While these drink options are fine in moderation, Melendi suggests drinking water as often as you can. "Alcohol, soda or other popular holiday drinks are crammed with sugar," she says. "I think this is something most people tend to overlook a lot, so it's really important to make a conscious effort to drink more water, not just for nutrition reasons but for hydration as well!"
Are you trying to watch your weight? Take a free online assessment to learn more about your healthy weight range by clicking here.
Related Posts
Comments
About the Author
Jaimie Oh, health enews contributor, is regional manager of public affairs and marketing at Advocate Health Care. She earned her Bachelor's Degree in Journalism from the University of Missouri-Columbia and has nearly a decade of experience working in publishing, strategic communications and marketing. Outside of work, Jaimie trains for marathons with the goal of running 50 races before she turns 50 years old.