Keep your back from freezing up this winter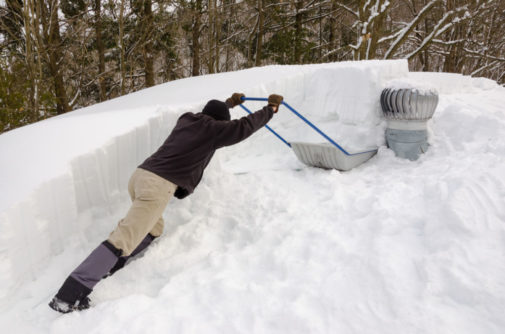 Whether you're shoveling, playing sports or enduring frigid temperatures, winter can be a literal pain in people's backs.
On its own, cold weather can cause and aggravate existing back pain. It tightens the muscles, tendons and ligaments that support the spine. This added strain can pull on the nerves and cause anything from mild discomfort to debilitating pain. For those who already deal with back issues, cold temps and low air pressure can cause swelling and make pain more severe.
Those in pain can take small comfort in knowing that they're not alone. Lower back pain is a cause of disability for people worldwide, and 90% of people experience back pain at some point in their lives. Although back pain is the second leading cause of all doctor visits, it doesn't necessarily mean going under the knife.
"There is a big misconception that the only way to cure back pain and reoccurring back issues is with surgery," says Dr. Walter Jacobsen, a spine surgeon at Aurora Health Care. "In fact, very few situations require surgery, and there are many non-surgical options that can help people live pain-free."
If you have a sore back, Dr. Jacobsen recommends using a heating pad or ice pack. Pain relievers like ibuprofen or aspirin are also safe to use, but follow the recommended dosages and be mindful of how much you take.
Another key to preventing back pain is being smart. During winter, especially in northern climates, shoveling snow is the culprit of creaky backs. Dr. Jacobsen says that when you're shoveling, pace yourself, use a shovel that minimizes bending and bend with your hips rather than your back.
Slippery surfaces can cause falls on ice and lead to injuries. Back pain can even come from fun activities like hiking, skiing, skating and sledding. To keep your back in tip-top shape, Dr. Jacobsen offers this advice to stay injury-free this winter:
Before any activity, do a light warm-up and stretch to get your back loose
When you're outside, stay warm with extra layers and keep your back and neck covered
Indoors, keep the heat up in your home and use an electric blanket on your back
Stay active with low-impact workouts like swimming, walking and aerobics, which can strengthen your back and entire body
Do you have a sore back? Evaluate your symptoms and learn about your overall spine health by taking our free, online back and neck pain assessment.
Related Posts
Comments
About the Author
Matt Queen, health enews contributor, is a communication coordinator at Aurora Health Care in Milwaukee. He is a former TV sports anchor and journalist with extensive public relations experience across the health care spectrum. Outside of work, Matt enjoys watching sports (of course), cooking, gardening, golfing and spending time with his wife and two young children.