5 tips to help you keep your resolution to stay active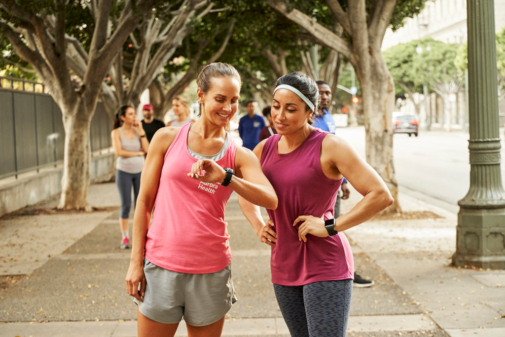 It probably won't surprise you that almost two-thirds of people — 59% who make a New Year's resolution — say their goal is to exercise more. That's according to a survey by YouGov, a market research company. And there's a good reason for it.
"Exercise can help boost your energy, control your weight, improve your mood and can add years to your life," explains Dr. Kaleigh Suhs, a primary care sports medicine physician with Advocate Medical Group.
Not only can regular exercise help you maintain a healthy weight, but a growing body of evidence suggests it can also reduce the risk of certain types of cancers, osteoporosis, type 2 diabetes, depression, obesity and high blood pressure.
"From a health perspective, getting active is probably the best gift you could give yourself in 2020," Dr. Suhs says.
Starting an exercise routine is usually the easy part. Sticking with it takes work, and indeed, resolution. Dr. Suhs shares five tips to help you stay active in 2020:
Set attainable goals. Don't try to go over the top with extreme lifestyle changes, as this can be hard to stick to. Make small changes and go from there.
Try to incorporate exercise into a daily routine. Having a set routine or schedule for exercise helps us make time for exercise in our busy schedules from day to day.
Meal prepping once per week, even if it's just for lunches or dinners, can help you stick to healthy dietary choices and limit the amount of "fast food" or takeout we may order. Our bodies need proper nutrition to fuel us for exercise.
If you are new to running, make sure to start slow and increase mileage by no more than 10% per week. This helps to limit stress injuries.
Run with a team. An organized race can be a great way to get motivated and stick to your goals.
You can join Team Advocate and receive a guaranteed entry for the Chicago Marathon this October. Knowing you're not only helping yourself, but also other people, can be a great motivator. Since 2011, Advocate's charity running team has raised more than $1 million for programs and services across Illinois. When you become part of the running team, you'll be able to support any hospital or program of your choosing. Sign up here to run with Team Advocate.
Related Posts
Comments
About the Author
Tami Hughes is a public affairs coordinator for Advocate Health Care and Aurora Health Care. She attended college at the University of Miami and loves watching her Hurricanes play just about anything. She enjoys cooking and going to concerts with her husband. Her heart is made happy by her children, Neenah and Jack, and her dog child, Rizzo.