A recent survey shows how many people are feeling depressed or anxious right now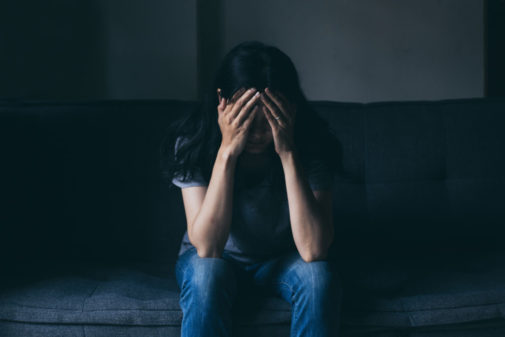 After months of increased isolation and uncertainty surrounding the spread of COVID-19, a third of Americans report feeling symptoms of depression or anxiety, according to recent survey data from the Centers for Disease Control and Prevention.
The online survey, conducted jointly by CDC's National Center for Health Statistics and the Census Bureau, assessed specific symptoms of anxiety and depression disorders in respondents during three separate weeks between April 23 and May 19, asking them how often they experienced feelings like hopelessness or constant worry in the seven days prior. The questions are part of the ongoing Household Pulse Survey — a greater effort to quickly collect data from more than 200,000 people to determine how the coronavirus pandemic is affecting their lives.
The findings, released earlier this month, showed a disturbing trend. For the most recent week of data, about 28% of respondents reported symptoms of anxiety, 24% reported symptoms of depression and about 34% reported one or both. That compares to a similar national survey conducted during the first half of last year that showed just 11% of Americans reported symptoms of either depression or anxiety, according to the CDC.
Sue Parcell, a licensed clinical professional counselor at Advocate Illinois Masonic Medical Center in Chicago, said she has noticed growing anxiety and depression in her clients as the pandemic wears on.
"At the beginning when we were staying at home…we had the expectation that we'd be returning" to normal, she said. When that didn't happen, "it was really in April that my clients were experiencing more anxiety and depression."
Besides sessions with a behavioral health provider, Parcell said she also advises simple methods to combat anxiety and depression, as well as a shift in thinking.
"Use your heart and get out of your head by practicing kindness to yourself and others, and above all, be patient," she said. "I think that is key. People just want to get back to normal. We need to pull back. We need to keep the vision of the future positive…and let go of any fear-based thinking."
For other ways to keep feelings of depression and anxiety at bay, Parcell suggests the following:
Stick to a routine and dress for the day — "Do not stay in your pajamas. That can actually lead to apathy and you start feeling hopeless."

Unplug — Limit upsetting news content each day. "Don't spend 10 hours on Twitter." Parcell also suggests uplifting movies and books, rather than negative or violent ones.

Yoga and meditation — "When we don't breathe, we're usually a little anxious." These activities are available on apps and online.
Parcell said these methods, as well as other calming practices, like coloring, combined with virtual individual or group therapy, can ease distressing symptoms during this challenging time.
"It's always important to call and reach out, and do what works," she said.
Do you need someone to talk to? If you live in Illinois, click here. If you live in Wisconsin, click here.
You shouldn't let COVID-19 keep you from seeking the health care you need, especially in an emergency. Advocate Aurora Health has made a Safe Care Promise to take additional steps to keep you safe. Read more here.
Related Posts
Comments
About the Author
Kate Thayer, health enews contributor, is a public affairs coordinator with Advocate Health Care. She spent nearly two decades as a journalist, most recently as a reporter at the Chicago Tribune. Throughout her career, Kate has written about public health, politics, government, education and legal issues, along with human interest stories. She enjoys running, podcasts and her twin daughters.