Run for more than yourself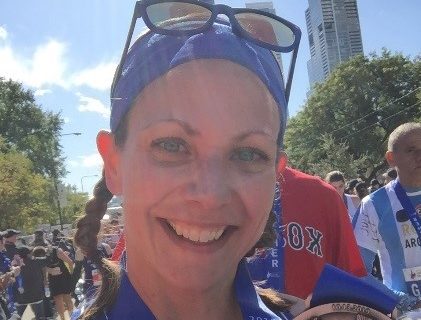 Lori Mackey has run 11 marathons in 8 years. So of course, she's in great shape.
But she is convinced that just about anyone can run a marathon if they're motivated to do it.
"I run to honor them. I run to support them."
Lori is talking about the pediatric patients she helps care for as an art therapist for the division of hematology/oncology at Advocate Children's Hospital in Oak Lawn, IL. Lori believes one of the best ways to keep motivated is to do it for a cause you care deeply about.
"I run for the children and teens who inspire me daily with their insights, wisdom, honesty, creativity, curiosity and humor," Lori shared. "Every single day, I witness both the small and large ways art therapy empowers, encourages and elicits self-expression and self-awareness and instills hope."
On days when Lori goes for a six or seven mile run before her actual work day even starts, she thinks of her sweet patients and gets it done.
"They're the fuel that keeps me going," Lori said.
If you join Lori on Advocate Health Care's charity running team to try the Chicago Marathon this fall, you're running for more than yourself. You'll be signing up to raise funds to support any Advocate Health Care hospital or program of your choosing.
Since 2011, Team Advocate's charity running team has raised more than $1 million for programs and services across Illinois, and participating gets you guaranteed entry into the race.
For more information or to join, go to advocategiving.org/chimarathon.
Related Posts
Comments
About the Author
Tami Hughes is a public affairs coordinator for Advocate Aurora Health. She attended college at the University of Miami and loves watching her Hurricanes play just about anything. She enjoys cooking and going to concerts with her husband. Her heart is made happy by her children, Neenah and Jack, and her dog child, Rizzo.