Women are at three times the risk for this rare brain disease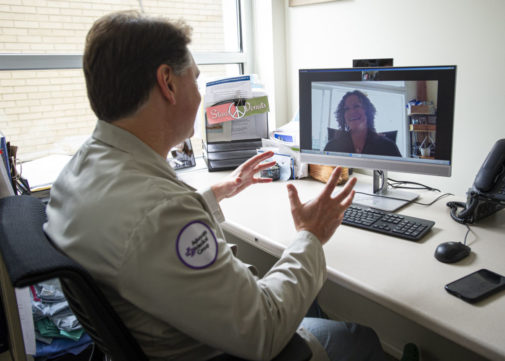 Sheila Sheppard, 49, survived not one, but two strokes over the course of one year and was diagnosed with a rare, but serious disease that affects women three times more than men.
"I did not hesitate to go into the hospital," said Sheila. "I have five kids, if I had waited and did not listen to my body both times, I would not be alive today. I want everyone to understand that ignoring warning signs of stroke is deadly."
Defined as a puff of smoke in Japanese, moyamoya is caused by blocked arteries in the brain and can lead to a stroke if not treated right away.
In February 2019, Sheila began experiencing signs of a stroke on her right side. A nurse herself, she immediately sought treatment.
"I had no underlying conditions or precursors, but was at risk for a massive stroke," says Sheila.
"Stroke is most prevalent in people over the age of 65, but it can and does occur at any age," says Dr. Demetrius Lopes, neurosurgeon and director of Advocate Health Care's stroke program. "With moyamoya, we see it largely affecting women. While there is no cure, the most common treatment is an indirect bypass where we increase the blood supply to the brain."
In early May of this year, Sheila was home with her children and husband and began noticing numbness and tingling on her left hand and then the left side of her face.
"My husband and I began tracking the symptoms to see if it would improve, but when it began to worsen, he drove me to Lutheran General," says Sheila."
Sheila was experiencing a second stroke on the opposite side. She is awaiting an indirect bypass surgery to prevent another stroke.
"The prognosis of untreated symptomatic moyamoya disease is poor," says Dr. Lopes. "In Sheila's case, moyamoya caused the stroke on each side of her brain, but her rapid response saved her life twice."
Despite the COVID-19 pandemic and the hospital's strict no-visitor policy, Sheila felt safe and well taken care of by her nurses.
"It's hard not having your family by your side and I anticipate the surgery will be the same, but the hospital staff made me feel comfortable and provided options to reach my family," said Sheila.
You shouldn't let COVID-19 keep you from seeking the health care you need, especially in an emergency. Advocate Aurora Health has made a Safe Care Promise to take additional steps to keep you safe. Read more here.
Want to learn more about your risk for stroke? Take a free online quiz by clicking here. 
Related Posts
Comments
About the Author
Neda Veselinovic, health enews contributor, is a public affairs coordinator at Advocate Lutheran General Hospital. She has more than five years of public relations experience and most recently worked with clients in the travel and hospitality industries. She prefers to spend her time with a cup of coffee and a good read and always welcomes book recommendations.