From stroke to survivor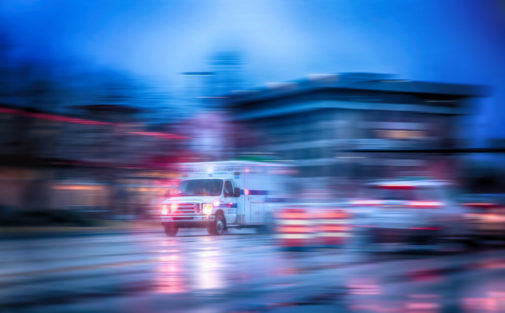 Alison Miller was having a pretty normal morning of breakfast, email replies and a conference call before she found herself curled up on the floor of her bathtub.
She had stepped into the shower and turned on the faucet, when she remembers feeling lightheaded and unsteady. Then, she collapsed.
"My entire right side was numb. My first thought was some type of pinched nerve was causing my leg and arm to fall asleep," Miller says. "After unsuccessfully trying to move my right leg and arm, I tried to yell out for help. While my brain thought I was saying help, it came out gibberish."
Even though she had no troubling family history, was in good shape and was taking no medications, the 42 year old former athlete was having a stroke.
"As a former athlete, I just thought this was me getting old," she says. "It never dawned on me that I was having a stroke."
Miller was rushed to Advocate Illinois Masonic Medical Center in Chicago, IL, where she remembers a team doctors and nurses swiftly going into action. Getting care quickly is critical. When it comes to stroke, doctors will often say "time is brain" because nearly 2 million brain cells can die per minute when they're starved for oxygen during a stroke.
At Masonic, neurosurgeon Dr. Asterios Tsimpas performed a mechanical thrombectomy to remove a clot, restoring blood flow to Miller's brain.
"By the end of the procedure, I remember Dr. Tsimpas asking me something and I was able to answer back clearly," she said. "My speech was back. From hours after showing up via ambulance, I'm walking out your front door a stroke survivor."
During recovery Miller was able to connect with her doctor via telestroke to have consultation with a remote doctor and still get the care she needed.
As in every stroke case, getting care immediately is among the most important factors to surviving a stroke. Dr. Tsimpas reminds everyone the importance of knowing the signs and symptoms of a stroke.
"Should you experience stroke-like symptoms, such as facial droop, weakness or numbness, sudden onset balance issues, think of stroke! Remember: BE FAST (Balance, Eyes, Face, Arms, Speech, Time). It could help save your life."
Related Posts
Comments
About the Author
Megan O'Dwyer, health enews contributor, is a public affairs specialist on the integrated marketing team at Advocate Health Care and Aurora Health Care. She earned a Bachelor's degree in advertising from Iowa State with a minor in event management. In her free time, Megan enjoys traveling, cooking the latest recipes and cheering on the Chicago Cubs.