Here's what you need to know to say safe this winter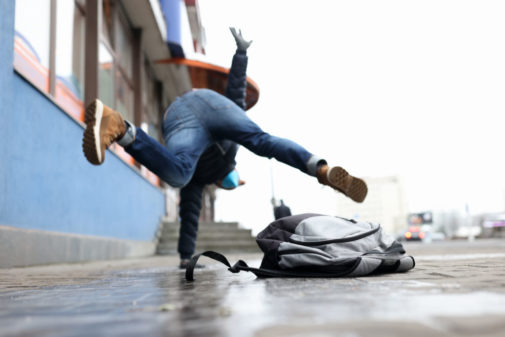 As the calendar turns to December, the weather also turns bringing snow, ice and cold. A little planning now can keep you and your loved ones safe during wintertime activities such as shoveling, winter sports or other winter-related activities.
Slips and falls are common during wintertime. The U.S. Bureau of Labor Statistics reports that in 2017, there were 20,460 ice, sleet, and snow-related injuries that required at least one day away from work to recuperate. In addition, the Centers for Disease Control says that more than 800,000 people are hospitalized annually related to a slip and fall injury, such as a hip fracture or head injury.
The good news is that there are steps that you and your family can take to help prevent these injuries.
According to Dr. Anthony Ricci, orthopedic surgery and sports medicine, Aurora Health Center – Southern Lakes, an important part of staying safe includes avoid going out until sidewalks and roads are cleared and salted, especially if you have issues with balance.
"The mail in the mailbox can wait until later and your dog does not need to go on a long walk,'' says Dr. Ricci. "It's also a good idea to dress the part and make sure you have the appropriate gear for the weather, particularly warm, non-slip shoes or boots. Staying hydrated is also important."
During the course of any winter, Dr. Ricci sees a fair amount of sore backs, necks and shoulders due to shoveling. He explains that it's important to allow yourself enough time to shovel, especially in the morning. He says you want to take your time and keep in mind that it's not a race.
"Treat shoveling like a sport,'' says Dr. Ricci. "Make sure to stretch and warm up prior. It's a lot like any other work out, you want to make sure your muscles are limber before you begin.''
He adds that proper technique and not using your back will save on injury. He says people often try to lift too much at once, including heavy, wet snow.
"My recommendation is that elderly or people with balance issues try and stay in until appropriate clearing and salting has occurred,'' he explains. "Consider delivery orders for food and groceries instead of pick-up.  Know the weather in advance and be prepared with food at home."
As for high velocity winter sports and recreation, Dr. Ricci suggests wearing a helmet as concussion is very common this time of year, especially from falls during sporting activities like skiing. He also recommends that snow boarders wear wrist guards as they are effective in preventing wrist fractures when falling on outstretched arms.
"When it comes to winter sports, know your limitations,'' he says.  "Know the weather and terrain, icy snow calls for more caution."
Related Posts
Comments
About the Author
Andy Johnson, health enews contributor, is a public affairs coordinator with Advocate Aurora Health. He's been with Advocate Aurora since 2000 serving in various internal and external communication roles. He previously worked as a reporter and editor for the Journal Times and Burlington Standard Press. He enjoys kayaking, biking, and camping but most of all, spending time with his family.