'I watched the mom hug her baby so tight, then ultimately break down crying'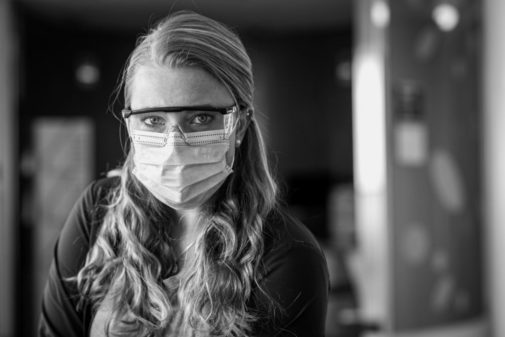 While COVID-positive kids aren't getting as sick as adults, the ripple effects of the pandemic on children and families is still very real. The new separate set of challenges facing kids is something Advocate Children's Hospital Pediatric Nurse Michelle Geisel said she and her colleagues have been grappling with since March.
Not only are the nurses and doctors donning layers and layers of PPE that makes them appear "less human" to the sick children, but they're also enforcing stricter visitor guidelines in the name of safety that can compound stress on parents during an already trying time.
Recently, Geisel was part of a team that cared for a 2-year-old who also turned out to be COVID positive. When the mom of the child asked when her husband could come join her as a support, Geisel had to share that only be one parent could be present in the hospital at a time due to the child's diagnosis.
"I watched the mom hug her baby so tight, then ultimately break down crying," Geisel said. "I could see the fear and overwhelming pain in her eyes realizing that she had to do this alone. As a nurse, there's nothing I can do to make that part better and I can't imagine how hard that is for the parents."
Another challenge the pandemic has presented for pediatrics is an influx of children with depression, anxiety and eating disorders. Geisel – who has been with Advocate Health Care for nearly 11 years, with eight of those years at Advocate Children's Hospital in Park Ridge – said she's never seen as many children admitted with eating disorders as they've seen as of late. Some are as young as 11 years old. She wishes more people would talk about how the pandemic is affecting adolescent mental health.
"These children and teens are suffering emotional trauma from not having social interaction or routine – they're broken," she said. "They're looking for something to control, and the one thing they can control is their eating. They're sitting on social media watching people who aren't real and fixating on it. This has been so hard on them."
Aside from new challenges brought on from the pandemic, Geisel and many pediatric nurses like her have been asked to float to the adult units to assist. While she said she's happy to help and willingly accepts every assignment, this brings a new element of stress to the day-to-day job.
"Every day you go into work, you have no idea where you'll be assigned to go," Geisel said. "One day it's the stroke unit, the next day it's the psych unit. It's a new level of unpredictability and I haven't worked with adult patients in years – I can't ask them if they have an 'ouchie.' We're doing it, but reaching far back in our brains to pull out the knowledge to care for them."
Through it all, however, Geisel said her secret to resiliency this year has been gratitude. She's grateful to have a job, to be healthy and to be able to care for others. She said she chose to receive the COVID vaccine last week because she knew it was best for the kids she cares for – some with compromised immune systems, some with cancer.
As a health care worker, Geisel said she's focused on trying to remember the way things are now is just a phase, not permanent.
"I heard a quote that I keep top of mind – 'Everything will be OK in the end. If it's not OK, then it's not the end.' We'll get through this. Underneath our masks, nurses are still smiling. Maybe not all the time, but we're definitely still smiling," Geisel said with a laugh.
Related Posts
Comments
About the Author
Bridget Kozlowski, health enews contributor, is a public affairs manager with Advocate Health Care and Aurora Health Care. She holds a masters degree in Public Affairs and a bachelor's degree in journalism, both from the University of Missouri. Bridget previously worked as a reporter for the Chicago Tribune and has also lead local government communications teams for both the City of Sterling Heights, Michigan and the Village of Lombard, Ill. Bridget loves trying new restaurants, traveling and spending as much time as possible with her son, husband and rescue mutt.