'Let us not squander hope! Be proud to get your vaccine'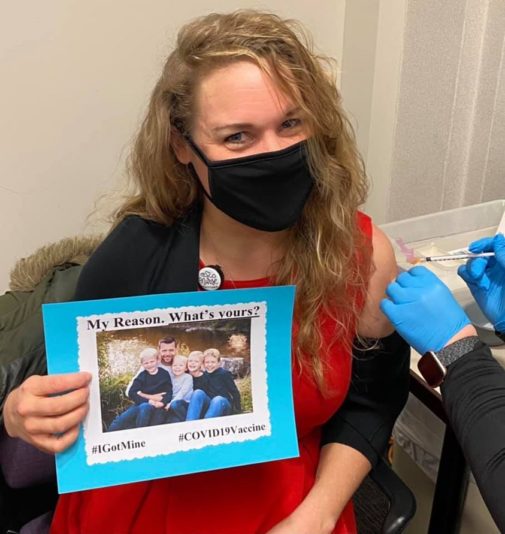 Wisconsin nurse practitioner Amber Schmitz just got her second dose of the COVID-19 vaccine and she feels great. Schmitz, who sees gastroenterology patients at Aurora Medical Center in Two Rivers, WI, and primary care patients through Quick Care Video Visits, got the vaccine in hopes of getting back to some normalcy, especially in her own home.
"My main motivation is my husband and four sons. I think about them in every decision I make," Schmitz said.
She is eager for her boys to be able to safely return to school, and she longs for big birthday celebrations and family gatherings. Getting the vaccine ignited her sense of hope, not just for her own family, but for her community and world.
"I wish to see no more sickness or death from this virus. I wish nursing home residents can feel the warmth of a loved one's hug. I want this pandemic to end," Schmitz said.
As a Quick Care Video Visit provider, she's invited into people's homes to provide care through a smart phone or tablet. She has seen up close how the virus can quickly impact someone's health, and how the pandemic has led to lost jobs and hurt families. Schmitz hopes that by getting vaccinated, she can be a bright example to her patients and the community that better days are yet to come.
"Let us not squander hope! Be proud to get your vaccine," she said. "Find your reason for vaccination and use that as your strength to press on in this fight!"
Click here for more stories about doctors, nurses and others working on the front lines.
Related Posts
Comments
About the Author
Tami Hughes is a public affairs coordinator for Advocate Aurora Health. She attended college at the University of Miami and loves watching her Hurricanes play just about anything. She enjoys cooking and going to concerts with her husband. Her heart is made happy by her children, Neenah and Jack, and her dog child, Rizzo.