No dream is too big – Meet Lindsey, a star of a virtual Les Misérables production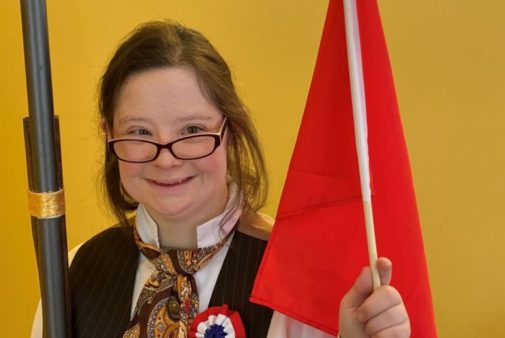 Lindsey Pazerunas, 26, has never let life's obstacles stand in her way. From beating leukemia at the young age of seven to navigating virtual interactions during COVID-19, she hasn't slowed down.
Pazerunas' passion for singing, dancing and acting has led her to star in a recent virtual production of Les Misérables as Courfeyrac.
"Through UPS for DownS, we produce a lot of plays," says Pazerunas. "Because of COVID, we have changed the format to a virtual production. With the help of my parents, I have created a green screen and studio at home to practice for my role."
Her mom Sandy Pazerunas has been her greatest supporter. The mother-daughter duo started the Give Back club in 2020. With nearly 40 members, they've provided lunches to homeless shelters, created Valentine's Day cards, and are currently making mats for animal shelters.
"As a parent of someone with Down syndrome, family support and community involvement are two important fundamentals to help your child achieve their best and follow their dreams," says Sandy Pazerunas. "Staying connected to centers like the Adult Down Syndrome Center has helped bring Lindsey's visions to life and make them bigger than we ever envisioned."
Recently, Dr. Brian Chicoine, medical director of the Adult Down Syndrome Center in Park Ridge, Ill., was one of the nation's panel of experts who authored the first ever, evidence-based medical guidelines for adults with Down syndrome.
"The original, nonformal guidelines were created almost 30 years ago," says Dr. Chicoine. "What we have achieved here with the publication of evidence-based guidelines will significantly impact the care of people with Down syndrome across the country."
The guidelines were supported by the Global Down Syndrome Foundation (GLOBAL) and published in the October 2020 issue of JAMA. The guidelines are available at no cost for personal or clinical use.
The Adult Down Syndrome Center is a clinic in Park Ridge, Illinois, devoted to adolescents and adults with Down syndrome. The Center provides comprehensive, holistic, community-based care and services using a team approach. In addition to patient care, the Center offers a variety of online classes and programs and collaborates on national and international projects including the GLOBAL Medical Care Guidelines for Adults with Down Syndrome.
On March 21, 2021, World Down Syndrome Day, Advocate Charitable Foundation launched a multi-year fundraising campaign, "At the Center of it all," to raise $5.5 million for Advocate Medical Group's Adult Down Syndrome Center. The funds will support the Center's patient care, education and research.
For more information about the campaign, visit advocategiving.org/adsc.
Related Posts
Comments
About the Author
Neda Veselinovic, health enews contributor, is a public affairs coordinator at Advocate Lutheran General Hospital. She has more than five years of public relations experience and most recently worked with clients in the travel and hospitality industries. She prefers to spend her time with a cup of coffee and a good read and always welcomes book recommendations.