Stroke Support Group offers treasured connections, forges forward in face of pandemic challenges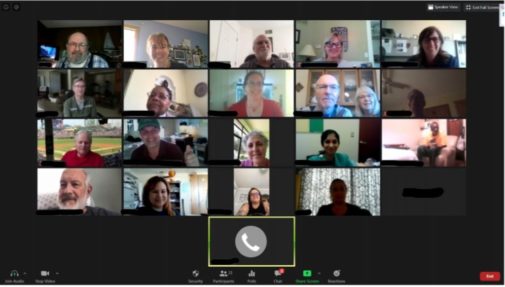 When the pandemic led to the cancellation of in-person Stroke Support Group meetings for stroke survivors at sites across the Advocate Aurora Health system, the participants and organizers wondered when they might be able to gather again.
Thanks to the wonders of technology, it didn't take long. The meetings have continued virtually on the computer, allowing participants to swap stories, share tips and connect with others who are experiencing challenges large and small of living after a stroke.
Two dozen participants from across Chicago and the suburbs, ranging in age from 50 to 80, attend each month. Participants said the monthly meetings have been a treasured resource, especially since the pandemic often makes it difficult to interact with others. The support group missed only one month, April 2020, before starting up the online sessions one year ago. Patients who have received care at all of Advocate Aurora Health's sites in Illinois can attend the online sessions. The group is open to any stroke survivor, not just Advocate patients.
"This has been an invaluable group," said participant Mike Matson, who had a mini stroke in October 2019. "We've helped each other back and forth in so many ways. You never know what may come up and when you may learn something. The key to this is we've all been there and it's a unique chance to share with others. And that's the important part of all of this: that we can share."
Each session usually has a theme or guest expert on a topic of interest, but the bulk of the meetings are often centered around the supportive interactions between participants, whether that means talking about struggles they are having with everyday living or questions for the others. One recent session focused on how to find and buy a bicycle that might be easier to ride for people with balance difficulties.
Participants said they appreciate how the others give them time to talk and don't rush the conversation or become impatient, aware it may take longer to articulate points or recall specifics because of the effects of their stroke.
"You can't understand it until you have it," Matson said about living after a stroke. "And that's why being able to talk to people is so valuable. Sometimes it's the tidbits and being able to learn little things that became so helpful. Sometimes it's if I have a question that others may have, maybe I can help them. … We learn from each other."
In one recent session, when Matson shared that he was feeling apprehensive about visiting his son and granddaughters in Kentucky for the first time since his stroke, one of the other participants offered words of encouragement.
"It doesn't change who you are," she said.
Meeting online has its perks, participants said. It is easier to attend meetings from anywhere and there are no more worries about bad weather, parking spots or transportation, which sometimes can be a complicated endeavor for stroke survivors. While the in-person interaction is missing, some participants said they feel more comfortable sharing over the computer. One participant described it as "a different kind of closeness."
"It has been the key to socialize a little during the year of almost complete isolation (and so much fear).  It's given people the opportunity to continue to get together safely, socialize, share, learn, support and 'just be' together," said Kate Murczek, stroke program manager at Advocate Christ Medical Center.
Murczek and Joy Rainey, stroke program coordinator at Advocate Condell Medical Center, organized the online support group, making sure that anyone who had attended in-person sessions pre-pandemic was invited to attend.
"I am personally thankful to have been given this opportunity to bring this new group together and partner with Joy," Murczek said. "Yes, we all miss our home-based hospital groups, but I have met so many new people and made new friends in the group."
The ability to meet and share with others encountering similar challenges because of a stroke, participants said, is what makes the group meetings an essential part of their lives.
"We're feeding off each other and learning things," Matson said. "That's what to me, in my humble opinion, is what is great about this group."
For more information about the Stroke Support Group, including how to join the online sessions, contact Kate Murczek at (708) 684-5294 or Joy Rainey at (847) 990-5126.
You can take the stroke risk quiz here: https://profilers.evaliahealth.com/v3/01094af9-6767-45c2-879a-644501fa3998?s=AAHweb
Related Posts
Comments
About the Author
Patrick M. O'Connell, health enews contributor, is a member of Advocate Aurora Health's public affairs team. He previously worked as a reporter at news outlets throughout the Midwest, most recently the Chicago Tribune. He enjoys playing and coaching baseball and basketball, hiking, reading, listening to podcasts, karaoke and spending time in nature with his family.