"Never skip your mammogram appointment"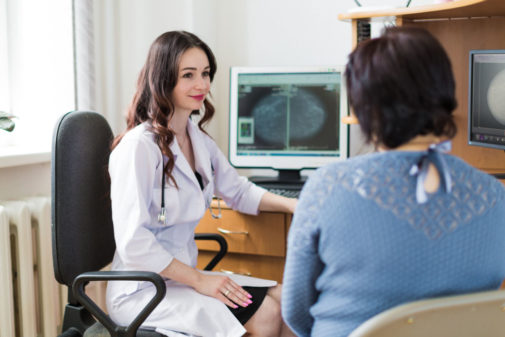 It was President's Day, so Leslie Krueger's two boys were home from school. She told her 11- and 14-year-olds she would take them sledding right after she got home from her routine mammogram appointment. It was only supposed to take an hour.
But when her mammogram showed some suspicious signs, her one-hour appointment lasted six. She had an ultrasound, then a biopsy. Later that day, it was confirmed — Leslie had stage 1 breast cancer.
"Your body just goes into shock. Not me, this isn't happening to me," said Leslie. "I came home and hugged my husband. We were both crying. I said right away that we're going to fight this. I was very confident that my care team would make sure my children wouldn't have to know life without their mother."
The 46-year old started treatment immediately. In February, she had a mastectomy at Aurora Medical Center in Grafton.
"We met Leslie in our multidisciplinary clinic to talk about all of her options. We came up with a plan right away and she was able to make the decision that was best for her," said Dr. Joseph Weber, breast surgical oncologist at Aurora Grafton.
Now, Leslie is a few weeks into a 20-week course of chemotherapy.
"Thanks to the scientists and the doctors working around the clock, chemo has improved through the years. The physical side effects weren't as bad as I expected," said Leslie.
For Leslie and others, catching breast cancer early makes all the difference in treatment.
"Leslie's regular mammogram caught the breast cancer early. We found out it was an aggressive form of cancer, so catching it early was very important," said Dr. Scott Maul, medical oncologist at Aurora Grafton. "Getting age-appropriate cancer screenings like a mammogram help detect disease at its most curable stage."
That routine screening saved Leslie's life. Now, she wants to make sure others know just how important that regular appointment is.
"Never skip your mammogram. Don't even be late," said Leslie. "I knew at least five women who had delayed their appointments. Now they all went in. It's extremely important. That screening saved my life."
Leslie hears more and more positive stories of other people who have overcome breast cancer. She's excited to join them—her course of chemotherapy is going well, and she can't wait to move past her diagnosis.
"I finish treatment on August 16. We plan to hike Pike's Peak to celebrate," said Leslie.
Need to schedule a mammogram? Make an appointment here.
Related Posts
Comments
About the Author
Ben Hoekstra is a public affairs coordinator with Advocate Health Care and Aurora Health Care. He previously worked in marketing and PR for various Milwaukee nonprofits and received his master's degree in Corporate Communications from Marquette University. He enjoys the outdoors, cooking, and all things Milwaukee.