Men are less likely to seek mental health services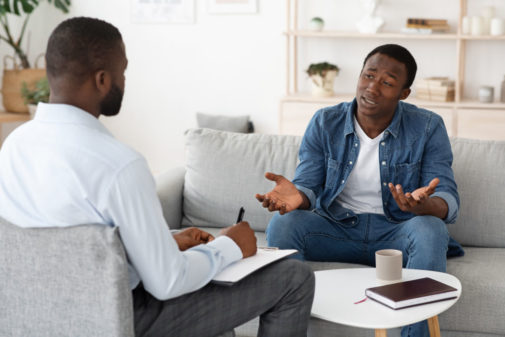 Caring for your mental health is incredibly important, but some people hesitate to reach out when they might be struggling. In fact, while men and women experience mental health issues at similar rates, they don't seek treatment at the same levels.
"Generally men seek help for mental health concerns less than women do, especially for depression," said Dr. Munther Barakat, director of behavioral health therapy at Aurora Psychiatric Hospital.
There are many reasons that men don't seek care for their mental health, but the biggest one is stigma, Dr. Barakat said. Many men feel like they should be in control and strong emotionally. Going to therapy or looking into other medical interventions can feel like admitting weakness or powerlessness, which some guys aren't willing to do, he added. Men are also less likely to talk about their emotions, which can make it hard to recognize their symptoms.
Admitting that you might need help is hard, but it's important to realize that seeking treatment isn't a sign of weakness. Just like you'd look for help when you're having a physical health concern, finding support for your mental health can make a huge difference in your day-to-day life as well as your long-term health. Understanding the symptoms and signs of a mental health condition can help you know when to seek help.
"For the most part, men and women experience the same disorder, but they may present differently," said Dr. Barakat. "For example, depression in men can have more externalized symptoms like irritability, anger and aggressiveness."
Mental health conditions often look different for men. They may find themselves getting angry more easily or coping with drugs or alcohol, which is more common for men. If you're experiencing these symptoms or notice them in someone you care about, reaching out for help can make all the difference.
"If a male friend or family member might be struggling, there are ways you can help support them. Normalize emotions and that people may experience mental health symptoms," said Dr. Barakat. "Even something as simple as bringing attention to symptoms such as difficulty concentrating, sleeping, eating and physical symptoms such as headaches or stomach aches is a good nonthreatening place to start."
If you are struggling with your mental health, you should talk to your doctor. Look here if you live in Illinois. Look here if you live in Wisconsin.
Related Posts
Comments
About the Author
Ben Hoekstra is a public affairs coordinator with Advocate Aurora Health. He previously worked in marketing and PR for various Milwaukee nonprofits and received his master's degree in Corporate Communications from Marquette University. He enjoys the outdoors, cooking, and all things Milwaukee.