What to look for when picking out a sunscreen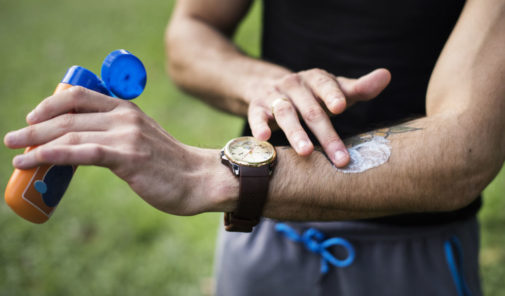 With so many different brands, sizes, colors, SPFs, and ingredients to choose from, the sunscreen aisle can be an overwhelming place for people looking to protect their skin this summer.
Dr. Karen Lee, an internal medicine doctor at Advocate Medical Group, says The American Academy of Dermatology recommends everyone use a sunscreen that has SPF 30 or higher, offers broad spectrum protection, which shields against UVA and UVB rays, and is also water resistant.
"There are two types of UV light rays that can harm your skin – UVA and UVB. A broad spectrum protects from both," Lee said. "UVA rays can prematurely age your skin causing wrinkles and age spots. UVB rays can burn your skin. Too much exposure to both can increase your risk of skin cancer."
Anyone can get skin cancer, regardless of age, gender or race, she adds.
"Whether it is sunny or cloudy, UV rays are present all year long and I encourage people to use sunscreen every day," Lee says.
The best sunscreen a person can use is one that will be applied often, but the kind of sunscreen you use is a personal choice and dependent on which area you're trying to protect.
Sunscreen options include lotions, creams, gels, ointments, wax sticks, and sprays. Creams are best for dry skin and the face, while sticks are good to use around the eyes, Lee says. Parents sometimes prefer sprays because they are easy to apply on kids. As a general recommendation, Lee suggests using lotion for large areas.
If you're a parent looking out for children or infants, there are sunscreen products marketed for babies, but the FDA does not recommend using these on infants under six months old, Lee said. She says the best practice for infants less than six months old is to keep them in the shade and in lightweight sun protective clothing.
"Their skin is immature and they have a higher surface area to body weight ratio, putting them at risk for greater absorption of the chemicals in the sunscreen," she said.
There are two main kinds of sunscreen: mineral and chemical. Physical or mineral sunscreens work like a shield, says Lee. They are made with zinc oxide or titanium dioxide which sit on top of the skin and deflect UV rays and are not shown to absorb into the blood, Lee said.
Chemical sunscreens, however, work like a sponge, absorbing the sun's rays, according to The American Academy of Dermatology. They contain one or more of the following active ingredients: oxybenzone, avobenzone, octisalate, octocrylene, homosalate, and octinoxate. These sunscreens tend to be easier to rub on the skin without leaving a white residue.
"If your skin is sensitive or acne-prone, mineral sunscreens are typically your best bet. However, mineral sunscreens are generally more expensive," says Lee.
And if you're trying to figure out if there are any harmful ingredients to be avoided, Lee said titanium dioxide and zinc oxide are "generally recognized as safe and effective." However, para-aminobenzoic acid and trolamine salicylate are two ingredients that are not "generally recognized as safe and effective," according to Lee.
Are you trying to find a doctor? Look here if you live in Illinois. Look here if you live in Wisconsin.
Related Posts
Comments
About the Author
Brittany Lewis is a media relations coordinator at Advocate Health Care and Aurora Health Care. She previously worked as a reporter at TV stations around the Midwest, including Milwaukee. She studied at DePaul University where she majored in Journalism and Public Relations. Brittany enjoys traveling, hanging out by Lake Michigan, trying new restaurants and spending time with friends and family.