How new robotic technology helped Lutheran General patient with brain aneurysm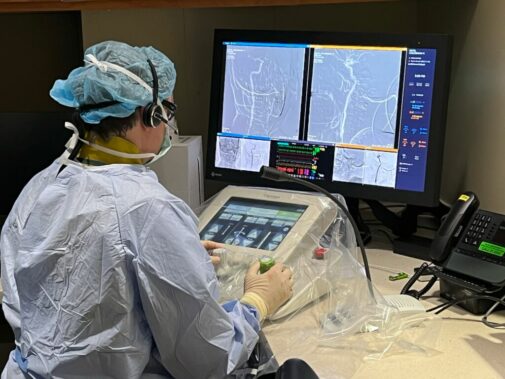 Six months after being rushed into emergency surgery for a ruptured brain aneurysm, Rocco Rubino felt his life was finally returning to normal. And yet the possibility of experiencing another life-threatening hemorrhagic stroke left a haze of uneasiness over him and his family.
That constant fear has since subsided, 37-year-old Rubino said, thanks to a procedure performed this month by the neurological team at Advocate Lutheran General Hospital in Park Ridge and the assistance of its new robotic technology system.
Two years ago, Rubino had just arrived in Las Vegas for a work trip when he collapsed and was rushed to the hospital. He underwent an endovascular coiling procedure to block blood flow into the aneurysm and spent weeks encapsulated in a blur of medical tests, searing pain and fear for his survival.
After building up enough strength to travel, Rubino returned home to Mount Prospect and made a full recovery. But while closely monitoring his condition over time, his care team noticed in follow-up scans that the aneurysm was slowly filling with blood, increasing the risk of another rupture, said Dr. Demetrius Lopes, cerebrovascular and comprehensive stroke program surgical director at Advocate Aurora Health.
Dr. Lopes recommended placing a stent that would divert blood flow away from the aneurysm, a bulge caused by a weakened blood vessel wall. And in what Rubino could only describe as "perfect timing," Lutheran General was one of two Chicago-area hospitals installing robotic-assisted equipment that could help his surgeons better visualize and plan the Oct. 12 procedure.
The first neurosurgeon in the Midwest to obtain a certificate of completion for the system training, Dr. Lopes used the new technology to perform a minimally invasive diagnostic angiogram, which — paired with a state-of-the-art biplane imaging system — provided him with greater precision and device positioning. He then manually placed the stent in the parent blood vessel to support the coiling completed during Rubino's initial surgery.
"The main advantage to this robotic-assisted technology is that it's incredibly precise," Dr. Lopes said. "We believe this is a major medical advancement that will improve surgical outcomes."
Though currently only used for diagnostic imaging purposes, the technology is the beginning of a new era for neurovascular interventions, Dr. Lopes said. In the future, the robotic equipment could be used for stent placement or stroke intervention and it could provide remote surgery assistance in locations where neurointerventionalists are not available.
Having completed the most neurovascular cases so far using this new technology, Advocate Aurora Health is among a few hospital systems in the country that will participate in trials to advance the use for intracranial procedures and remote surgery, Dr. Lopes said.
The equipment helps to enhance robotic intervention strategies across the Advocate Aurora system, he added, pointing to an existing robot used for cardiac interventions and other procedures at Aurora St. Luke's Medical Center in Milwaukee.
As one of the first neurosurgical patients on whom the new robotic technology was used, Rubino said the experience was nothing but positive. The procedure was performed under general anesthesia, and he was released from the hospital the next day with minimal pain and no neurological changes.
But even beyond the surgery's success, Rubino said he's grateful for the reassurance it gave him: there's a 99% chance that his aneurysm will never cause problems again.
"It feels so much more relaxing to have the stent placed so accurately and to have such a high likelihood that a rupture won't happen again," Rubino said. "My family and I are relieved."
Related Posts
Comments
About the Author
Lauren Rohr is a public affairs coordinator with Advocate Aurora Health. She studied journalism at the University of Illinois at Urbana-Champaign and spent the last several years working as a news reporter covering public health, local government, politics, education and all facets of life in the Chicago suburbs. In her free time, she enjoys reading, baking, staying active and cheering on her favorite sports teams, especially the Chicago Blackhawks and the Fighting Illini.