Hard for your child to fall asleep or wake up on time? They may be experiencing sleep regression.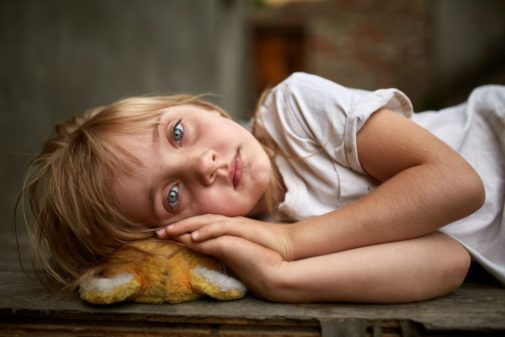 Whether it is difficulty falling asleep, staying asleep or waking up to alarms, both adults and children are experiencing abnormal sleep as of late, a phenomenon called sleep regression.
"Sleep regression means that something has gone wrong with our sleep," says Dr. Innessa Donskoy, a pediatric sleep medicine physician at Advocate Children's Hospital. "And the truth is, sleep regression is never predictable."
Dr. Donskoy says any adjustment to life can lead to an adjustment to sleep, including after a precipitating event, such as a pandemic. A milestone in a child's life can also affect sleep patterns. When a child has learned a new skill, their excitement over this can cause them to alter their normal behaviors around sleeping. Many people are also sleeping in later because they no longer commute to work or get the kids ready for school, resulting in much less physical movement throughout the day. But there are solutions to this common sleep problem, for both you and your child.
"The most effective advice to help with sleep regression is simple: have a relaxed approach when it comes to bedtime," says Dr. Donskoy. "This is going to be incredibly helpful, no matter how negative or stressful your days may be."
Although it's natural to be stressed as a parent, your child can sense it which can make it very difficult for them to rest, she said.
"Kids are incredible gauges on how stress is affecting their parents and their home," Dr. Donskoy said.
Regardless of what weight you have on your shoulders, she recommends parents take time in the evening to do something for themselves, even if it's just a few minutes of reflection. Head into bedtime relaxed, even if you aren't feeling that way.
"If your child sees you relaxed, it will do so much more than you might realize," she says. "Read a book, give them their bath, do whatever you need to unwind and cool them down to be able to rest. The relaxation from a nighttime routine will allow them to feel less stressed and sleep better."
Here are some questions Dr. Donskoy suggests parents ask themselves to combat sleep regression:
What's changed?
How has the pandemic altered their typical routine?
Are they waking up later?
Are they less physically active during the day than before?
Do you have trouble sleeping? Learn more about sleep apnea by taking a free online quiz.
Related Posts
Comments
About the Author