Discovering the joy of painting after brain surgery
Emerging from successful brain surgery, Brenda Rivera suddenly had the urge to create art.
"After I was in surgery for four hours, I just woke up and thought, 'I want to paint, I want to draw," said Rivera, who works as a nursing assistant at Advocate Christ Medical Center in Oak Lawn, Ill.
The November 2020 surgery, performed the same hospital where she works, removed a benign but growing brain tumor the size of a walnut that was affecting Rivera's eyesight and giving her migraines.
As she recovered, Rivera realized she had a strong desire to paint. She had no formal training and had never taken any art classes. None of that mattered to Rivera. She began purchasing paints, brushes, paper and canvases to embark on her newfound passion.
"I feel very lucky to be here and to be able to share this wonderful gift, this new gift that just came out of nowhere," Rivera. "I was like, 'Oh, my! What's going on? This is a new skill."
Choosing her subject matter was easy: Rivera turned the spotlight on her colleagues.
Inspired by their efforts during the pandemic, Rivera began painting portraits of her co-workers to recognize the care and dedication they have given to patients. Now more than a dozen of the portraits are on display at the employee entrance at the medical center for all to see.
"It's telling their story," Rivera said.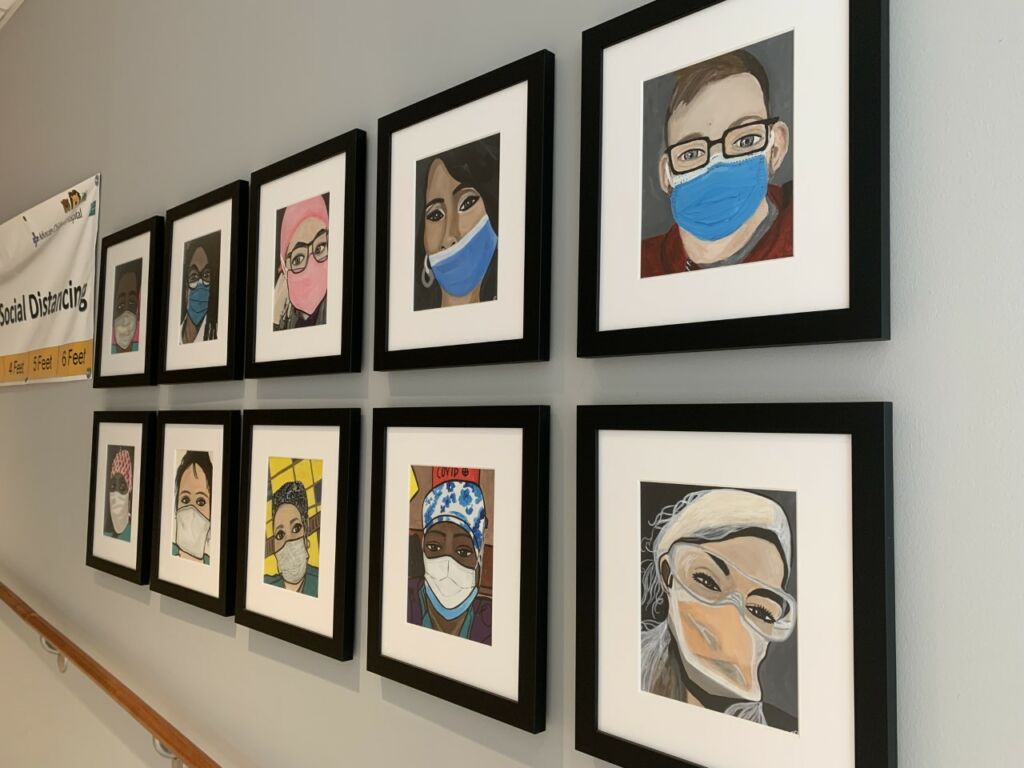 Patients sometimes have a new appreciation for life after brain surgery, said Dr. Hamad Farhat, a neurosurgeon at Advocate Christ Medical Center who performed Rivera's surgery. That feeling can take many forms, he said, and often can be a new activity, hobby or passion.
"It doesn't surprise me," Farhat said.  "We've seen many different situations like this. And in Brenda's case, I'm so happy about her artistic prowess, if you will. We're all very proud of her here."
The early months of the COVID-19 pandemic were a challenging time for health care workers and Rivera wanted to recognize the efforts of those she worked with every day. She had family members who died of the coronavirus and she knew how much COVID-19 was affecting those at the medical center.
"I feel like it's about survival," she said about the acrylic paintings that hang on the walls for staff to see as they arrive and leave work. "We came through a situation and we found a way to adapt to our new surroundings and our new environment."
The portraits, Farhat said, are Rivera's way of giving back to the medical center and her colleagues.
"We all appreciate it," he said.
Rivera's subject matter also includes family, friends and pets. The 48-year-old mother of three creates most of her artwork out of her home in Chicago and hopes to one day open her own studio.
Now is the perfect time to make an appointment with a primary care physician. Whether you live in Illinois or Wisconsin, it's easy to find a doctor near you. 
Related Posts
Comments
About the Author
Patrick M. O'Connell, health enews contributor, is a member of Advocate Aurora Health's public affairs team. He previously worked as a reporter at news outlets throughout the Midwest, most recently the Chicago Tribune. He enjoys playing and coaching baseball and basketball, hiking, reading, listening to podcasts, karaoke and spending time in nature with his family.