'It doesn't hurt to have the knowledge'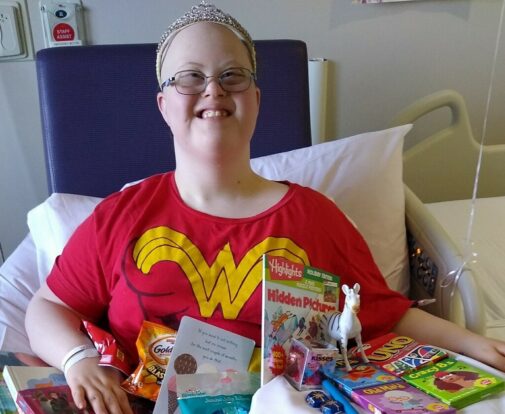 Until she started slurring her speech, the signs that my 17-year-old daughter, Sarah, had suffered a stroke appeared as what seemed to be minor, isolated incidents. They took place over 10 days in 2020 – first falling and getting emotional, then telling my husband and I that her leg was tired, then another fall. But two doctors examined her and told us everything looked fine.
Sarah has several health issues, including down syndrome, being legally blind and having hearing loss. She underwent open heart surgery at three and a half months old. I thought her saying her leg was tired simply meant she didn't want to walk.
It wasn't until day 10 when I noticed her slurring her speech during e-learning that the doctor advised it was time to take her to Advocate Sherman Hospital. There, the doctors performed a CT scan and told us she'd had a stroke. She was immediately transferred to Advocate Children's Hospital in Park Ridge, where doctors told us she had lost control of her left side and he didn't know if she'd get it back.
The team at Advocate Children's Hospital performed several tests and we discovered she had suffered many silent strokes and that neither of the carotid arteries in her neck were providing oxygen to her brain.
I thought we were going to lose her.
But Dr. Demetrius Lopes performed a surgery that connects one of her arteries from her scalp to her brain to reroute and restore blood flow. With the surgery and physical therapy, she did get her function back. She's not as strong as she once was, but most of it came back with hard work.  We are very thankful and feel very blessed for the whole team that worked with Sarah.
Through this process, Sarah was diagnosed with Moyamoya disease, a chronic condition that causes narrowing of the blood vessels in the brain. It's rare, and much more common in people with down syndrome, but can happen in anyone. Due to this disease, she'll be at risk of strokes for the rest of her life. However, now she has a good neurosurgeon, Dr. Lopes, and we will go back every year to see how she is doing. Eventually, we are hopeful to have surgery on the left side as was done on the right side. This will help her brain produce the oxygen it needs to prevent additional strokes.
While we're always watching for signs, we aren't worrying every second of the day and we're not taking anything for granted. Sarah just turned 19 and we're extremely grateful.
I learned several valuable lessons during this experience that I hope will help other parents protect their children.
Be the advocate for your child. You know if something is not right. We wish we would have pushed for more tests early on before we went to the hospital.
Educate yourself on the signs of a stroke. Even if your child is healthy and you think nothing is going to happen, it doesn't hurt to have the knowledge. Some of the signs Sarah exhibited, like fatigue in the extremities, seemed very vague but were signs of a stroke.
Take notes or have someone with you when speaking to doctors about your children's condition. During the nearly two weeks Sarah was in the hospital, we saw several doctors, specialists and nurses. There was so much information to take in, that I wish I had created a log for myself to keep everything straight.
Want to learn more about your risk for stroke? Take a free online quiz here. 
Related Posts
Comments
About the Author
Mother of an Advocate Children's Hospital patient shares her daughter's story.