Finding supportive sandals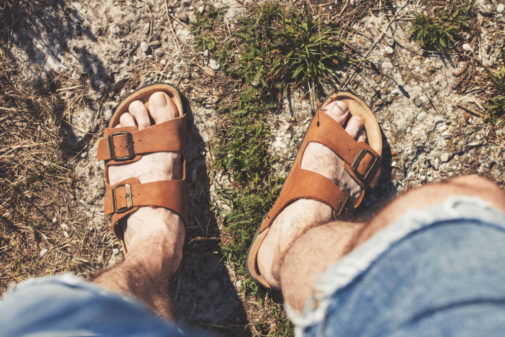 As warm weather continues in the Midwest, you might be looking for supportive sandals to wear for the rest of the season.
Dr. Steven Jasonowicz, a podiatrist at Advocate Good Shepherd Hospital in Barrington, Il., says he recommends a sandal with the following qualities for the best fit:
Good arch support
A moderately stiff sole
Appropriate straps to hold the foot in place
Other things to look out for when shopping for a comfortable pair of sandals are finding a shoe that does not rub or irritate the skin, and of course, needs to be the appropriate size for the foot, Dr. Jasonowicz says.
"I always suggest measuring the length and width of your foot to ensure you are getting the correct size. In my opinion, a sandal should be supportive throughout the arch and secure enough to keep the foot from sliding around as you walk," Dr. Jasonowicz recommends.
Also, don't forget to slowly transition into a new sandal and protect your feet with sunscreen, says Dr. Jasonowicz.
If you've found your supportive sandal, keep in mind when you are wearing them so as not to injure your foot. Dr. Jasonowicz says that sandals are generally not appropriate for longer-distance walking and they are best worn around the beach and pool when regular shoes may not work.
"In terms of summer activities, I would not recommend sandals while hiking or on uneven surfaces, while playing sports or while running," Dr. Jasonowicz advises.
Further, there are some people with certain medical conditions, such as neuropathy, that would be better suited not wearing sandals, says Dr. Jasonowicz, or those with large deformities or difficulty with walking and balance.
If in doubt, Dr. Jasonowicz recommends talking with a foot and ankle specialist prior to wearing sandals.
Are you trying to find a doctor? Look here if you live in Illinois. Look here if you live in Wisconsin.
Related Posts
Comments
About the Author
Anna Schapiro is a public affairs coordinator at Advocate Aurora Health. She has a background in public relations and communications and studied journalism at Northwestern University. When she's not working on internal communications for the organization, she enjoys cooking, reading and living in Chicago.