Could this be a 'game-changer' for mastectomies?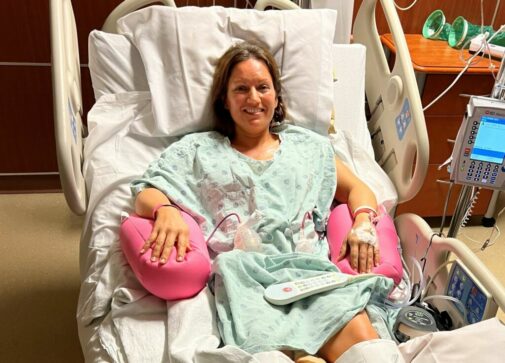 In the wake of her stage II breast cancer diagnosis, Lana Callahan researched and prepared for whatever treatment plan would give her the best shot at beating the disease for good.
In her case, that meant undergoing chemotherapy followed by a bilateral mastectomy, or the removal of both breasts. But thanks to an innovative new procedure involving nerve grafting, 43-year-old Lana has a chance of restoring sensation in her breasts while also reducing the risk of cancer recurrence.
Typically, when patients undergo a mastectomy and reconstruction, they are left with no feeling in their new breasts, even if the nipple is spared, said Dr. Heidi Memmel, a breast surgeon at Advocate Lutheran General Hospital in Park Ridge. That can be a deterrent for women who are considering preventative mastectomies, or for breast cancer patients debating between a mastectomy and a lumpectomy.
"This is very upsetting for many women, as they are not able to feel pain with an injury, sensation during intimacy or the hug of their child," Dr. Memmel said.
Even in a mastectomy that preserves the nipple and skin, the nerve must be cut as it exits the chest wall and near the nipple to remove the breast tissue in between. With the new procedure performed by Dr. Memmel and plastic surgeon Dr. Stefan Szczerba, a cadaver graft is then used to reconnect the nerves during reconstruction, allowing the breasts to redevelop sensation over the next several months.
"This can be a game-changer for women who are hesitant to undergo a mastectomy," Dr. Memmel said. "It's a way to make women feel a sense of normalcy after going through this procedure."
With the procedure only available at a few locations nationwide, Drs. Memmel and Szczerba recently visited a medical team in San Francisco to learn about the new technique. There, physicians reported a success rate of about 85% of patients regaining sensation in their breasts – some even better than before – after six months.
Advocate Lutheran General is among the first in the Chicago area to offer nerve graft mastectomies, starting with Lana's procedure on April 12. Six weeks later, she said, the feeling was already starting to return to one of her breasts.
"For women going through breast cancer, so much of your life is changing," Lana said. "I'm 43. I'm still young, and to improve my quality of life by getting some feeling and sensation back, if possible, is amazing."
Breast numbness is one of the biggest downsides of a mastectomy, particularly for young women who have the BRCA gene mutation and undergo the procedure for preventative reasons, Dr. Memmel said.
"They don't want to spend the next 50-70 years of their life not being able to feel anything," she said. "A mastectomy with nerve grafting allows them to reduce their very high risk of developing breast cancer, while still maintaining normal feeling and sensation."
To be eligible for the nerve grafting procedure, women must be a candidate for a nipple-sparing mastectomy, Dr. Memmel said. The technique won't be possible, for example, if a cancerous tumor is growing directly beneath the nipple and invading the skin.
Dr. Memmel says her goal is to offer the procedure to more eligible patients, whether they have breast cancer or a high-risk gene mutation.
Despite the newness of the procedure, Lana says she had the utmost confidence in Dr. Memmel, Dr. Szczerba and her comprehensive Lutheran General care team. She was thrilled for the opportunity to be at the forefront of medical innovation.
"I feel like they really care about me, and I'm so grateful they were willing to try this procedure," Lana said. "If this works, I feel like we did something groundbreaking together to help other women."
Want to learn more about your risk for breast cancer? Take a free online quiz here. 
Related Posts
Comments
About the Author
Lauren Rohr is a public affairs coordinator with Advocate Aurora Health. She studied journalism at the University of Illinois at Urbana-Champaign and spent the last several years working as a news reporter covering public health, local government, politics, education and all facets of life in the Chicago suburbs. In her free time, she enjoys reading, baking, staying active and cheering on her favorite sports teams, especially the Chicago Blackhawks and the Fighting Illini.