If you're struggling to breastfeed, these people can help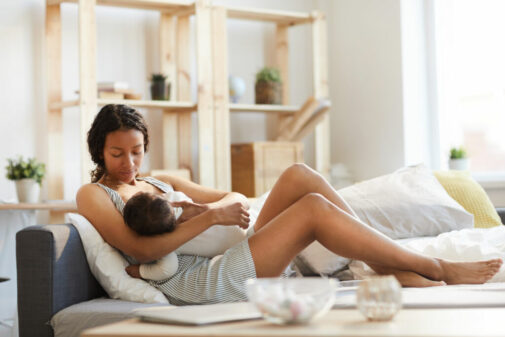 New parents face many challenges, but those who struggle to produce milk to breastfeed their child can feel an added sense of pressure – and many may be too ashamed to ask for help. That's where a lactation consultant steps in.
"The support, the education and the ongoing availability of what the [lactation] team can do makes a world of difference," says Alyssa Zommick, who credits the lactation consultants at Advocate Condell Medical Center for getting her through her difficulties breastfeeding with both of her babies. "If I didn't have them making me feel so comfortable and giving me those resources, especially the second time around, I wouldn't have been as successful as I am."
When she was about to have her first baby, Zommick felt nervous but prepared. Like many, she assumed breastfeeding would be easy. But when she and her newborn settled in at home, her daughter was not eating and gaining weight the way she should have been.
Worried, she called Courtney Sensenig, a lactation consultant at Advocate Condell, for advice.
Sensenig was always there to answer her questions, Zommick says. And when she felt overwhelmed and discouraged, Sensenig was the one who reassured her, telling Zommick that she was giving her daughter everything she needed, and celebrated every drop she was able to produce.
"Moms go through one of the most intense physical things they will ever do [childbirth] and now they have to take care of a newborn 24-7," says Sensenig, who noted that the goal is to have mothers exclusively breastfeed for six months then continue through two years. "We provide a lot of education: we meet with the mom, teach her about the process of breastfeeding and explain how it will look and feel the first couple of days, how the volume of milk changes over the first week and when to ask for support."
Lactation consultants are a guide and resource for all the changes that occur after giving birth and can even help parents develop feeding plans for returning to work.
"Having a lactation consultant who can listen, process and help educate makes a lasting impact on not only the baby's health but also the mother's health," Sensenig says. "We provide some continuity of care, and we work closely with our physicians to support them."
The key to a successful breastfeeding journey is education before, during and after a baby's birth, Sensenig continues. To mitigate anxiety and confusion, she encourages parents to take breastfeeding classes and join new parent support groups, like Advocate Condell's "Look What We Can Do," which Zommick calls "my tribe of moms and best friends."
"Postpartum is hard, and babies are hard," Zommick says. "I went through a lot of struggles to produce enough milk and their support was like nothing else. (Sensenig) stopped being just a lactation consultant and became a supportive person in general. They're all there coaching me through it and holding my hand through anything and everything."
Find virtual and in-person classes near you in Illinois, Wisconsin or at Aurora BayCare Medical Center.
Related Posts
Comments
About the Author