'If you don't see people who look like you in a role it's hard to picture yourself there.'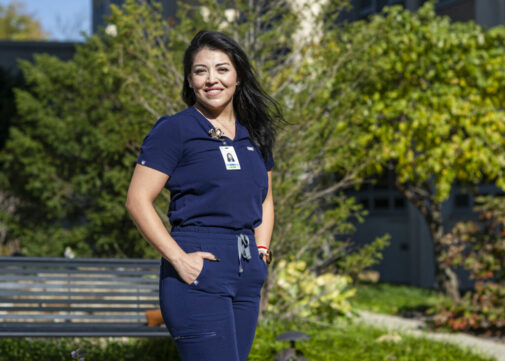 When Rocio Sanchez was a little girl, she remembers her mother being in the hospital. Once for the birth of one of her siblings and another time because a mass was found on her mother's kidneys. Sanchez noticed her mother's healing journey was directly impacted by the care she received. It made a noticeable and positive difference when the nurse showed her mother patience and empathy.  
"The impact that a nurse has on people when they are in their most vulnerable state, it was what really catapulted me to want to pursue this profession," says Sanchez, now a registered nurse at Advocate Condell Medical Center in Libertyville, Ill.   
Sanchez is a first-generation immigrant and a first-generation college student who began working toward her nursing degree while still in high school. She's traveled to El Salvador to bring medical supplies and care to an underserved area. During the pandemic, she volunteered and trained to work in the emergency department and intensive care unit at Advocate Condell.  
"There are so many opportunities, so many different ways you can take the profession," she says. "I think there's this stigma or idea you kind of think of nursing and immediately think of bedside nursing, but nursing is so much more than that." 
With a passion to inspire others, Sanchez chairs the Shared Governance Council and Professional Development Committee at Advocate Condell. She was named the medical center's 2021 Nurse of the Year, was selected among the 40 under 40 Emerging Nurse Leaders in Illinois by the Illinois Nurses Foundation and awarded the Forty Under 40 Award by the National Association of Hispanic Nurses, where she serves as the treasurer-elect of the Illinois chapter. 
She aims to be a nurse role model for other underrepresented minority students who want to become nurses. She does this through her mentorship and scholarship efforts with the National Association of Hispanic Nurses.  
"If you don't see people who look like you in a role it's hard to picture yourself there," Sanchez says. "That's why my work with the association is so important." 
She credits the team at Advocate Condell for helping her grow in her career and plans to pursue a doctoral degree in nursing leadership.  
"I want to give back in any way I can – especially as it relates to my Hispanic culture," Sanchez says. 
Read more of Sanchez's comments in the Daily Herald and Lake County Journal. 
Now's a perfect time to make an appointment with a doctor. Find a provider that's right for you in Illinois or Wisconsin. 
Related Posts
Comments
About the Author