'Something we take for granted.'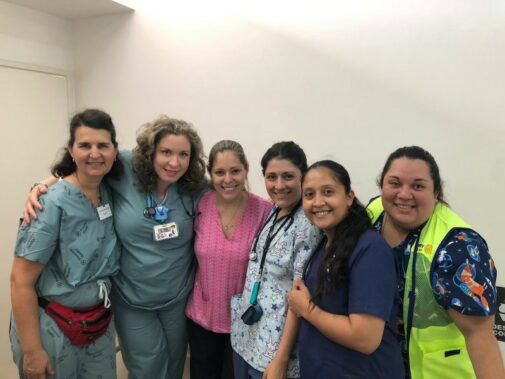 During a recent office visit, Dr. Emma Olivera encountered a family who was astonished they could speak Spanish directly to their child's pediatrician.  
Until that time, the parents used a translating service with interpreters to help them communicate with their child's doctor. But because Dr. Olivera is fluent in Spanish, they were able to talk directly.  
"That's something we take for granted. You don't realize, until you have those interactions, why having someone who speaks your language is important," says Dr. Olivera, a pediatrician with Advocate Children's Medical Group. "That must have felt so good for these parents!"  
For Dr. Olivera, the journey to help Spanish-speaking patients began as a hospital volunteer in high school.  
"I spoke Spanish with my family growing up, but that's conversational Spanish," says Dr. Olivera, whose parents were born in Bolivia and Cuba. "I wanted to learn medical Spanish, which is totally different. I kept seeking opportunities to learn medical terminology and get better at that."  
In medical school and residency, she would hone her skills by participating in clinical rotations in South America. Just prior to the start of the pandemic, she volunteered in Bolivia with Healing the Children – Northeast, to provide pre- and post-operative care to underserved children who required cleft lip and palate repair. Through that work, she was able to help children in Bolivia and further build Spanish skills that would help treat her patients in America as well.  
Since the onset of the COVID pandemic, Dr. Olivera has used her link to the Latino community to help dispel misinformation about the COVID vaccines. She's led and partnered with several national organizations and was most recently featured in a U.S. Department of Health & Human Services "We Can Do This / Juntos Si Podemos" public service announcement to educate on the safety of pediatric vaccination.  
"The Latino community was disproportionately affected during the pandemic." Dr. Olivera says. "It was staggering to me to see what misinformation was coming out on social media. As doctors, we remain trusted messengers. If we can get the truth out there, we can make a difference in helping people get protected. This includes providing culturally competent information in Spanish." 
Now's the perfect time to make an appointment with a doctor. Find one that's right for you in Illinois or Wisconsin. 
Related Posts
Comments
About the Author
Katie Dahlstrom, health enews contributor, is a public affairs coordinator with Advocate Aurora Health. A storyteller at her core, she is a former newspaper reporter and spent nearly five years working as a public relations professional for Chicago's commuter rail agency, Metra. Outside of work, she enjoys birding, photography and spending time with her husband and dog.