Celebrating the things that bring us together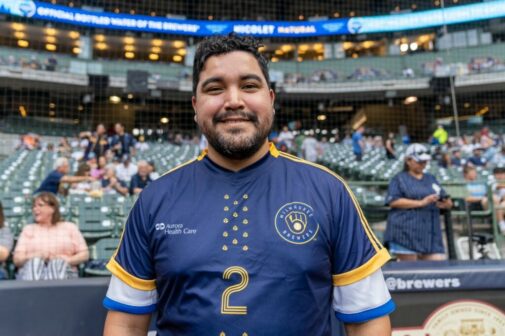 Born in Argentina to an Argentina nurse and Honduran doctor, Dr. Aldo Martinez Vaca is no stranger to the medical field. Growing up in the town of Siguatepeque, Honduras, Dr. Martinez was always fascinated with the positive impacts of health care on people's lives. Both of his parents were heavily involved with a mission hospital in Siguatepeque and giving back to the community.
This inspired Dr. Martinez to complete his medical degree in Honduras and begin his journey in the health care field. Dr. Martinez began his career as an interpreter in the emergency department at Aurora St. Luke's Medical Center. Soon after completing his residency, Dr. Martinez returned to Wisconsin with his wife and newborn, this time to work at Aurora Health Center – Six Points as a family practitioner.
While Dr. Martinez serves the Latino community in Milwaukee, he emphasizes that the community impacts him as well.
"I am able to learn more myself by serving the Latino community," says Dr. Martinez. "I'm able to serve my patients with more clarity, because we work as a team to have better results."
While Dr. Martinez is Central American himself, he enjoys learning about other Hispanic communities from his patients from Mexico and Puerto Rico. He works to learn and understand the different and similar cultural aspects.
Dr. Martinez understands the importance of having a provider that can relate and empathize with a patient on a meaningful level.
"While it's important to receive proper medical care, it's equally important to have someone who understands your language and culture," says Dr. Martinez. "My patients and I find universal things we can relate on like culture and values, especially values like the importance of family and sharing. This creates trust and a safe environment for patients."
For Dr. Martinez, Hispanic Heritage Month is a time to reflect on these values and collaboration as a team.
"We all deserve the right to medical care," says Dr. Martinez. "It's important to have a doctor who understands your language and culture so we can work together."
Are you trying to find a doctor? Look here if you live in Illinois. Look here if you live in Wisconsin. 
Related Posts
Comments
About the Author
Junior at Marquette University studying public relations, corporate communications and business administration with a concentration in communication leadership