6 things to expect during a baby's first checkup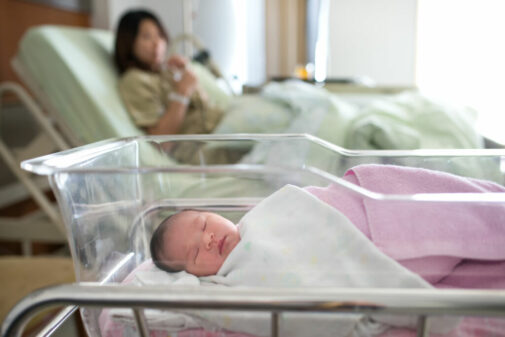 In the hours after delivering your baby, a lot is going on. You're focused on spending time with the new addition to your family, learning next steps and trying to get what rest you can. In those first few hours, you'll typically receive a visit from a pediatrician to perform the first checkup on your little one. There are a few key things that your child's pediatrician will typically look for or recommend. If you have questions about any of these recommendations, you should feel comfortable bringing them up to your child's doctor. They can give you advice based on your child and medical best practices.
1. Risks associated with the pregnancy or family history
"When I am about to see a newborn, I review the mother's history, the family history, records of the pregnancy and delivery, and how the infant has been doing since birth," says Dr. Andrea Munoz, pediatric hospitalist at Aurora West Allis Medical Center. "We check if there are any high-risk concerns for the baby such as maternal diabetes, baby's birth weight and gestational age so we know what to keep an eye on."
2. Vitamin K injection
"Soon after birth, it's recommended that all infants receive an injection of vitamin K to reduce the risk of bleeding due to their low levels of vitamin K at birth," says Dr. Munoz. "Vitamin K is an essential vitamin for blood clotting, which is important as there is a risk of internal bleeding during the birth process — especially in the infant's brain, for male infants after circumcision and as the umbilical cord separates."
3. Application of antibiotic ointment
To prevent severe infection, most states require the newborn care team to apply one dose of antibiotic ointment to the infant's eyes within the first hour after birth. This can prevent eye infections that could lead to rapid corneal damage, scarring and blindness.
"It's important to understand that this antibiotic ointment helps protect against a number of possible infections," says Dr. Munoz. "This goes beyond preventing sexually transmitted diseases as other bacteria that regularly occur in the mother's body can also cause an infection in the baby. The ointment helps protect against that for the first few weeks of a baby's life."
4. Hepatitis B vaccination
Hepatitis B virus causes chronic and lifelong infection in the liver, which can be prevented with a vaccine dose in the first 24 hours after birth. Newborn infection is devastating when it occurs.
"Moms are tested early in pregnancy but typically not again, so they could acquire it later in pregnancy and we wouldn't know as there can be no outward symptoms," says Dr. Munoz. "That's why the hepatitis B vaccine is recommended to protect babies in their first few months of life and until they receive subsequent vaccinations."
5. Jaundice
Your child's pediatrician will also check for signs of jaundice, a yellowing of the baby's skin and eyes caused by too much bilirubin in the baby's blood. Bilirubin is a by-product of old red blood cells that is normally processed by a mature liver. Babies are all screened for jaundice within 24 hours of life so that early treatment or a close monitoring plan can be established. This prevents complications from very high levels of bilirubin, which is more likely to occur during the first week of life.
6. Feeding difficulties and weight loss
The nursery nurses, lactation specialists for nursing mothers and doctor will help you keep an eye on your baby's feeding pattern. If your newborn isn't eating well or consistently, they can give you different techniques to try and help you understand what signs are cause for concern.
It is typical for newborns to lose a small percentage of weight soon after birth but after three or four days, your doctor expects them to start to gain weight consistently. If your newborn is losing too much weight, it's important to catch it early to make sure that your baby is given enough nutrients to grow and thrive.
Your child's doctor, a covering doctor or a newborn hospitalist will come visit you and your baby in the hospital for the first checkup usually within the baby's first day of life.
"Don't forget that there is a baby that will need a doctor after you leave the hospital. If you research the best option for you before delivery, that's one less thing you have to think about in the hospital," says Dr. Munoz. "It can help to add that to your list as you get closer to the baby's due date."
Are you trying to find a doctor? Look here if you live in Illinois. Look here if you live in Wisconsin. 
Related Posts
Comments
About the Author
Ben Hoekstra is a public affairs coordinator with Advocate Aurora Health. He previously worked in marketing and PR for various Milwaukee nonprofits and received his master's degree in Corporate Communications from Marquette University. He enjoys the outdoors, cooking, and all things Milwaukee.