Does your stomach medication put you at risk for bone fracture?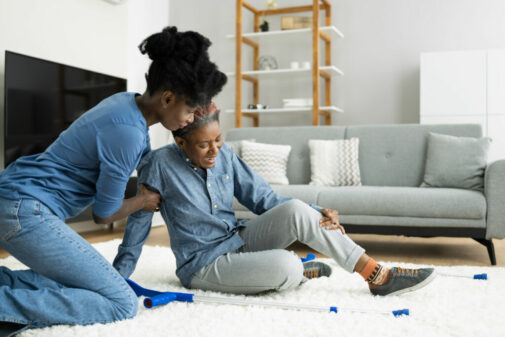 Proton pump inhibitors, or PPIs, have become common medications to treat heartburn and acid reflux. They are for people of all ages but especially for older adults, who are more prone to experience gastrointestinal disorders. Of the 15 million people in the U.S. who take PPIs, 7 million are over the age of 65.
"Unfortunately, one side effect of PPIs is an increased risk of bone fractures, typically from falls," says Dr. Eli D. Ehrenpreis, a gastroenterologist and researcher at Advocate Lutheran General Hospital in Park Ridge, Ill. "The precise cause of this association remains unknown, but it may be the result of impaired calcium absorption caused by the medication. PPIs reduce the amount of acid in the stomach and a less acidic environment in the stomach decreases the absorption of calcium. PPIs, however, can be an effective way for older adults to improve their quality of life, so we look for ways to mitigate the potential uptick in risk from taking PPIs."
As is so often the case with managing our health, increasing physical activity can play a major role. The U.S. Centers for Disease Control and Prevention recommends three exercise programs tailored to seniors that are proven to reduce falls: tai chi, Stepping On and the Otago Exercise Program.
Tai chi uses body posturing and precise movements to build balance and strength. Stepping On is a mixed individual and group exercise program, based on occupational therapy strategies, that focuses on moving around safely. The Otago Exercise Program involves physical therapy and focuses on strength and balance. All three programs involve structured and easy-to-implement strategies that lower fall risk for older adults by as much as 55%.
The results of a recent study published in the Journal of Patient-Centered Research and Reviews found that the benefits of clinically guided exercise can be well worth the cost.
"Falls cost older adults that use PPIs regularly between $72 billion and $131 billion in health care expenses each year," says Dr. Ehrenpreis, the senior author and team leader of the study. "Yet our research showed that to financially benefit PPI users over age 65, exercise programs must only reduce fall risk by 5%, a mark that all three programs greatly exceeded."
Dr. Ehrenpreis and his colleagues found that, based on their estimates from previously published studies reporting fall-related costs, participation in one of the three prescribed exercise programs could save older adults on PPIs between $2,960 and $10,178 per person each year.
"Movement is medicine," he says. "It's a cliché because it works."
Learn more about clinical trials and research at Advocate Aurora Research Institute.
Related Posts
Comments
About the Author
Nick Bullock, health enews contributor, is a scientific writer and editor for Advocate Aurora Health. He is a former newspaper reporter and magazine editor with a background in science and research reporting. When he's not writing about the latest health care research, Nick is usually hiking through Wisconsin state parks, reading sci-fi novels or historical nonfiction, trying new recipes, agonizing over Minnesota sports franchises and playing games with his family.