Does your child need an in-person or telehealth appointment?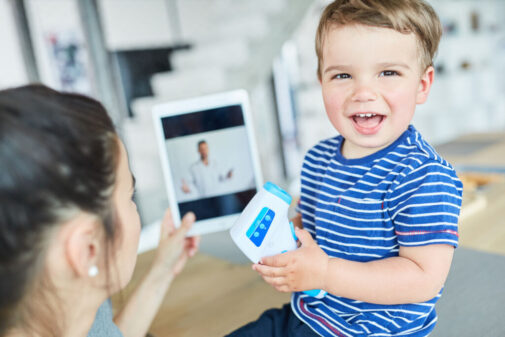 When your child is sick, sometimes you just want to wave a magic wand and make it all go away.
The idea of dragging a sick child to the doctor's office, especially when you have other kids, may seem overwhelming and time-consuming. Yet you know your child may need more treatment than you can provide yourself at home.
While it's not a magic wand, there are health care options that weren't available in the past such as video visits or e-visits. These telehealth visits, also known as virtual visits, can help you get timely advice so your child can feel better.
Some symptoms require your child to be seen in person like ear pain, high fever, breathing problems or suspected broken bones.
If you're not sure whether to go in person or choose telehealth, give your doctor's office a call. They can guide your decision-making.
If you choose a virtual visit, there are a few options:
Video visit with your child's provider during office hours
Quick Care Video Visit which provides 24/7 care from the next available provider
E-visit for common non-urgent conditions and symptoms which is also available 24/7
"We see lots of conditions among children aged 2 and older. We're able to do a video visit even if your child needs a test for things like strep throat, flu or COVID. When we order a test, you'll get a notification in your health care portal with a link to schedule the test," says Mandy Fawcett, nurse practitioner who provides care via Quick Care Video Visits in New Berlin, Wis. "You'll also get an after-visit summary just like when you have an in-person visit."
Sometimes, after you've started a virtual visit, your care provider may discover that your child needs an in-person visit for the sake of their health and safety. If this happens, you'll likely get a refund for the virtual visit.
Here are some of the conditions that can often be covered in Quick Care Video Visits for children:
Colds, cough for children 5 years old and up, and runny or stuffy nose
Minor skin conditions – rashes, burns and acne
Minor injuries
Diarrhea, constipation or upset stomach
Fawcett says most kids adapt easily to video visits and sometimes show more interest in the appointments simply because it's on a phone.
"I like to talk directly to the child because they are the patient. If they seem reluctant, I ask them to show me a toy. That usually helps them open up," says Fawcett.
She urges parents to follow their intuition when deciding whether to seek care for their children. "If something doesn't feel right, get it checked out. Your child's health and safety are worth it," Fawcett says.
Want to learn more about telehealth? Look here if you live in Illinois. Look here if you live in Wisconsin.
Related Posts
Comments
About the Author
Jo Linsley, a health enews contributor, is a digital content strategist at Advocate Aurora Health. With decades of experience in writing and editing, she continues to aspire to concise and inspiring writing. She also enjoys knitting and singing as creative outlets and for their meditative qualities.