What exactly are platelets?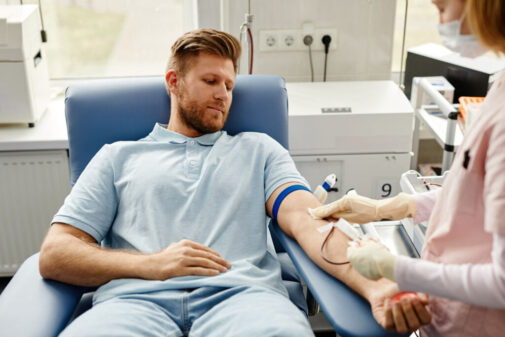 Blood transfusions are performed every day to save the lives of those who have been in an accident, have undergone surgery, or have cancer or other illnesses. Fortunately, many people take time out of their daily lives to selflessly give part of themselves to someone in need.
A person usually can donate whole blood every eight weeks, and many donors adhere to that schedule. However, there is one option where the wait time to return is far less – donating platelets.
Platelets are tiny disc-shaped pieces of cells that make up less than 1% of our blood. Platelets travel to the site of an injury and bind together to make blood clots, helping to stop bleeding or heal wounds.
Amazingly, platelet donations can be repeated every seven days, which is good news when you consider that nearly 5,000 units of platelets are needed daily in the U.S., according to the American Red Cross.
If you choose to do a platelet-only donation – a process called apheresis – more platelets can be collected than by a whole-blood donation. During apheresis, platelets are separated out and the rest of the blood is returned to your body. Since the process is a bit more involved than standard blood donation, the collection does take longer, but you'll have donated enough platelets to help as many as three people.
Currently, a logistical drawback to platelet donation is that platelets cannot be stored for as long as whole blood, which can be refrigerated for up to 42 days. Platelets are stored at room temperature and have a shelf life of only five days, creating a constant need for donors.
New research aims to solve this issue. Researchers at Advocate Aurora Research Institute are participating in an ongoing clinical trial to study the effects of platelets stored in cold temperatures.
"Previous studies suggested that chilled platelets may work better and have a longer shelf life than room-temperature platelets," says Dr. John Crouch, cardiothoracic surgeon at Aurora St. Luke's Medical Center in Milwaukee, Wis. "We hope this trial can determine if colder platelets last longer and more effectively control bleeding during cardiac surgery."
It's the first large, multicenter study of its kind.
Favorable study results could show the ability to better control bleeding, lower chances of bacterial contamination, reduce waste and maintain a greater inventory of platelets.
"This study could have widespread implications. It could potentially mean helping more people with fewer platelets, reducing the need for as many donations," says Dr. Crouch. "Still, the need will always be there, so please donate if you're able."
Related Posts
Comments
About the Author
Julie Walters, health enews contributor, is manager of research communications for the public affairs department at Advocate Health Care and Aurora Health Care. She also serves as production manager for the peer-reviewed Journal of Patient-Centered Research and Reviews. Julie's background is mostly in multimedia design and project management and has worked in health care for over 15 years. She lives in Milwaukee, Wis., and in her free time enjoys spending time with family, gardening, bargain hunting and getting organized.