Breast cancer patient receives a pink carpet treatment at the ballpark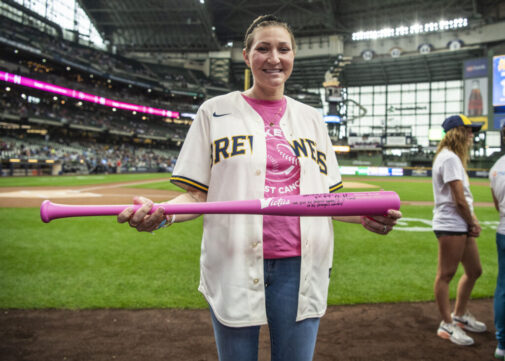 It was a Mother's Day she and her family will never forget.
On Sunday afternoon, breast cancer patient Krista Parker and her family received the pink carpet treatment from Aurora Health Care and the Milwaukee Brewers during the Pink Out game at American Family Field.
Parker, who was joined by her husband, Brandon, and their two boys, 9-year-old Cameron and 8-year-old Colton, threw out the first pitch as they cheered her on along the first baseline. The throw was right on target – albeit with the help of a small bounce over home plate – and into the catcher's glove. Then to Parker's surprise, she also received a customized game jersey and a pink bat signed and presented by first-baseman Rowdy Tellez.
"I was a little nervous," Parker says. "But it was such an honor and something I will never forget. And just knowing that I had some great family and friends who were able to be down there, too, made the butterflies disappear because I knew I had their support."
It's been a long road for Parker and her family. The 36-year-old third-grade teacher from Racine, Wis., has been battling cancer since she was diagnosed at the early age of 28. After finding a lump in her sternum in 2016, doctors performed a lumpectomy, then chemo and radiation therapy. After treatments and losing her hair, she appeared to be in the clear.
But then in September 2020, during the heart of COVID, doctors feared the cancer had returned after a chest x-ray found a large amount of fluid in the air sacs around the lungs. As Krista put it, "It felt like an elephant was sitting on the left side of my chest."
Today, despite several more rounds of chemo and radiation, her stage 4 cancer has spread to her spine and liver and her fight is still ongoing. But she is determined to beat it.
"It's been a long journey for me," Parker adds. "I was diagnosed when my boys were very little. So I'm very happy that modern medicine has come as far as it has and allowed me the opportunity to spend more time with them and my husband. My doctors have taken great care of me and I've had a great experience with Aurora. So, I'm very thankful to them that I'm still here today and getting to celebrate Mother's Day here with my family and just keep fighting the good fight."
Ever since her diagnosis, Parker says every day is a gift.
"To be here on Mother's Day makes the gift even more special because I'm here with my husband and my two boys and getting to enjoy the day with them and celebrate our time together."
Parker's day concluded by joining the survivors dancing on top of the dugouts during the seventh inning stretch as the crowd sang along to "Take me out to the ballgame."
Parker's story is unique in the fact that she was diagnosed at an early age.
Guidelines recommend that women discuss their risk for breast cancer with their clinician starting at 30 years old and discuss mammography screenings starting at 40 years old.
"If you can get yourself checked, then do it, no matter what age you are," Krista Parker says. "It's better to know what's going on than not. So, if you have the opportunity to get your mammogram, to get screened, please do that as soon as you can and as often as you possibly can."
Dr. Julie Kepple and Dr. Nicole Zaremba, breast surgeons and oncologists at West Allis Medical Center agreed with Parker's take. While Dr. Zaremba agrees with the guidelines, she still would like to push for more annual screenings, especially for high-risk patients.
Dr. Kepple also emphasized that it is important patients understand their family history to get out in front of a possible diagnosis.
"It's really important that patients always know what their risk is instead of just following a guideline," Dr. Kepple says.
Krista's husband also offered up his words of encouragement to not only his wife, but all the survivors on hand.
"I'm super proud, not only of Krista, but for all the ladies that are here today," Brandon Parker says. "We were super excited to get out here and showcase Krista's talent, and also bring awareness to breast cancer, which is what today is all about. Today was an absolute pleasure for our entire family to come out here and enjoy what the Brewers and Aurora have put together, everything was fantastic from start to finish. Seeing the smile on Krista's face and knowing this was something my two boys will never ever forget, it was fantastic."
Brandon knows Krista still has a long fight ahead of her.
"When you support anyone with cancer, there are good days and there are bad days," Brandon adds. "But you ride the wave with them and provide the support that they need. So if it's just someone to listen, be that person. If they need someone to push them, be that person as well."
Want to learn more about your risk for breast cancer? Take a free online quiz here. 
Related Posts
Comments
About the Author
Adam Widman, health enews contributor, is a public affairs manager with Advocate Health Care and Aurora Health Care.