How to stay safe at the pool this summer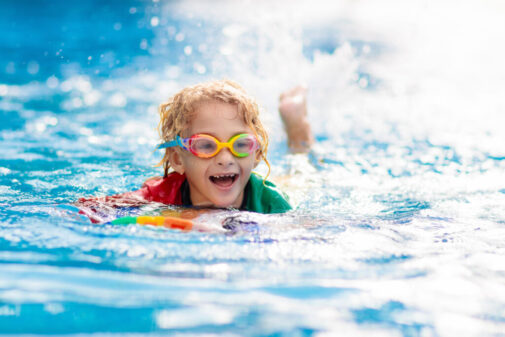 According to the American Academy of Pediatrics, drowning is a leading cause of death in children. The misconceptions about drowning can cause people to let their guard down when at a pool or on vacation. Knowing the best prevention measures and how to identify drowning when it's happening is key.
"While safety precautions are important, the most important thing is to have a water watcher close to children when they are in the water. Many people think that drowning is a loud, visible process, but people do not realize how quiet it can be and how quickly it can happen for children," says Dr. Deanna Behrens, a pediatric critical care physician at Advocate Children's Hospital.
Drowning incidents frequently occur in public places. While having lifeguards on duty offers an added layer of protection, it can also give a false sense of security as you may assume someone else has eyes on your child. However, it can be very difficult to quickly spot a drowning child in a crowded pool.
One hack some lifeguards and swim instructors recommend is to avoid dressing your child in a blue bathing suit. The thought is that brighter tones or more colorful patterns may help spot your child in a crowd more easily. While the hack hasn't been scientifically proven, Dr. Behrens says there's no harm in trying it as an added safety measure. She adds that the most important precaution is having eyes on your child at all times.
"The number one tip is direct supervision with touch or visual sight. There's no substitution for that. That's why we recommend having a dedicated water watcher for every one or two children swimming. This person shouldn't be on their phone, drinking alcohol or doing other things. If the adult is distracted, even if they're just a couple feet away and even for a minute, their full attention isn't necessarily on the children, which is a huge risk," Dr. Behrens says.
This person should be a strong swimmer who has experience with water, and it doesn't necessarily need to be a parent. If there are multiple adults present, Dr. Behrens recommends rotating the person in that role to help share responsibility. She adds that it's important to always have a designated water watcher regardless of group size, even if you're just at home.
If you do have a pool in your yard, make sure there's a barrier around it and that it's kept shut to prevent a child from wandering into the water. If you have an inflatable pool, Dr. Behrens says to empty and drain it after each use.
Swimming can be a fun and healthy family activity but safe swimming is key. The AAP recommends swim lessons for children over the age of one, if medically appropriate.
"Even if a child has completed lessons and is a good swimmer, accidents can happen. They could hit their head, get tired or overestimate their swimming abilities," says Dr. Behrens.
If a drowning incident does occur, try to remove the child from the water if it's safe to do so, call 911 and wait for help. Always have a child checked by a medical professional after any drowning incident.
Are you trying to find a doctor? Look here if you live in Illinois. Look here if you live in Wisconsin. 
Related Posts
Comments
About the Author
Lee Batsakis, health enews contributor, is a public affairs coordinator with Advocate Children's Hospital. She graduated from Western Michigan University with a degree in public relations and has worked in health care since 2013. Outside of work, she enjoys reading, exercising, and spending time with her fiancé and two dogs.