What to expect during your mammogram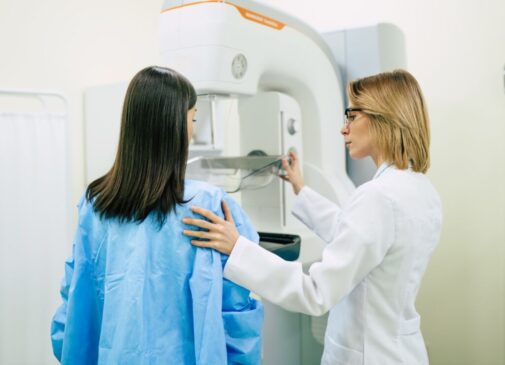 Having your first screening mammogram is a rite of passage that you may be anticipating with mixed feelings. You know it's important, but you may not be happy about it.
Ann Iglesias, a nurse practitioner with Advocate Medical Group in Aurora and Oswego, Ill., answers some common questions:
How long does it take? The whole procedure takes about half an hour. Most of that time is spent preparing for the images to be taken. First, you'll need to change into a medical gown. When you're in the X-ray room, you'll follow instructions from your mammographer to get into just the right position to capture a clear image. You'll only spend about 10 to 15 seconds with your breast fully compressed for each image taken. For your screening mammogram, typically one image is taken from above and one is taken from the side of each breast.
Additional images may be taken if you have dense breasts or breast implants.
Most of the time, you'll get your results on the same day.
Is it embarrassing? Mammographers are respectful and gentle. They realize they're dealing with a part of the body that carries self-esteem issues for many people. Talk to your mammographer about how you're feeling. They'll take their time and help you feel relaxed enough to finish this vital screening procedure.
Does it hurt? The reality is that mammograms can be uncomfortable, and some people may even find them painful. But there are things you can do to stay as comfortable as possible. And the benefits outweigh any discomfort or pain.
Why do they put stickers on your nipples? Your mammographer will apply a sticker with a little lead ball on them that will show up on the X-ray image. It helps the radiologist, the doctor who reads the images, see the orientation of the breast within the image.
It also helps the mammographer tell if the nipple is showing up correctly on the image. If the nipple folds under a little bit during the compression, it can create a questionable area on the X-ray image. The position of the lead ball on the image lets the provider know when they need to take another image for a clearer view.
These stickers may also be placed on moles or scars to help the radiologist read the X-ray accurately.
What if you have nipple piercings? Will you need to remove jewelry? Ask about this ahead of time. You may need to use a retainer that isn't made of metal during your screening mammogram. This will keep your piercing open while still allowing the X-ray to get a clear visual of the area.
What about tattoos? Mammograms are compatible with tattoos. Sometimes, your mammographer will ask for extra images if the placement of your ink seems to be shadowing part of the image.
"Mammograms are too easy to pass up. When you schedule in advance, it's easy to find a time that fits your schedule even if you need an evening or weekend appointment," says Iglesias. "It's great to have such an accurate screening technology to help catch breast cancer early – when it's quite treatable."
Want to learn more about your risk for breast cancer? Take a free online quiz here. 
Related Posts
Comments
About the Author
Jo Linsley, a health enews contributor, is a freelance copywriter at Advocate Health Care and Aurora Health Care. With decades of experience in writing and editing, she continues to aspire to concise and inspiring writing. She also enjoys knitting and singing as creative outlets and for their meditative qualities.