Why preterm babies are getting infant massages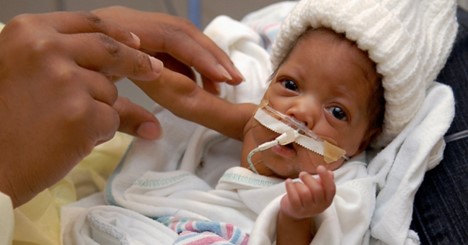 The human touch is a powerful thing.
Research has shown us that people evolved with a basic, primal need to be embraced by others, starting right at birth.
That's the idea behind an evidence-based infant massage program that Advocate Children's Hospital has for all preterm babies. The program, known as H-HOPE, or Hospital to Home: Optimizing the Preterm Infant's Environment, is one part education for parents about their preterm baby, called Parents+, and one part multisensory massage, called Massage+.
"We call it an infant massage, but it's really more of a time for parents to connect with their preterm baby through infant-directed talk, eye-to-eye contact, moderate touch strokes from head to toe and gentle rocking," says Margaret Behm, advanced practice registered nurse, NICU developmental care nurse specialist and Advocate Children's Hospital – Park Ridge clinical site lead for the H-HOPE program.
And the results speak for themselves.
"Studies have shown that the H-HOPE program improves a preterm baby's language development, motor skills, growth and feeding, and reduces the baby's length of hospital stay, hospital cost, and the number of post-NICU doctor visits, all while encouraging parent engagement and caregiving," says Dr. Preetha Prazad, neonatologist at Advocate Children's Medical Group in Barrington, Ill.
Through the program, clinicians in the NICU teach parents how to perform the massage on their own so that they can continue the program once they go home. Parents are taught to perform a massage twice a day, generally at the same time each day, giving their full attention to their babies for about 10 minutes, typically in a dimly lit, quiet room.
"Some of our families love the program so much that they perform the massage three or four times per day, especially after discharge from the NICU," Behm says.
Additionally, parents receive three guidance sessions on preterm infant behavior and communication, two during their baby's stay at the NICU and one during their transition home.
Advocate Children's is also participating in a research study to determine how effectively the program can be implemented into clinical practice and home care, with Dr. Prazad as Advocate Children's principal investigator. The study involves surveying volunteer participants on how each NICU carries out the program and how it affects babies, parents and care teams.
Are you trying to find a doctor? Look here if you live in Illinois. Look here if you live in Wisconsin. 
Want to know more about our research? Visit aah.org/research.
Related Posts
Comments
About the Author
Nick Bullock, health enews contributor, is a scientific writer and editor for Advocate Health Care and Aurora Health Care. He is a former newspaper reporter and magazine editor with a background in science and research reporting. When he's not writing about the latest health care research, Nick is usually hiking through Wisconsin state parks, reading sci-fi novels or historical nonfiction, trying new recipes, agonizing over Minnesota sports franchises and playing games with his family.