Articles by "Annie Brandes"
Annie Brandes is a Certified Child Life Specialist at Advocate Children's Hospital - Park Ridge. She loves working in her dream job on the pediatric inpatient unit as she provides coping support to patients, parents, and siblings experiencing the challenges of hospitalization.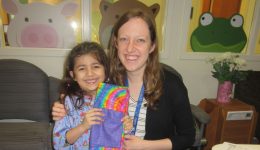 Going to the hospital is overwhelming for children. An expert shares how she helps patients adjust.