Articles by "Dr. Mark Neault"
Mark Neault, M.D. is a board-certified orthopedic surgeon with Advocate Medical Group (AMG) Orthopedics at Advocate Condell Medical Center. His practice specializes in sports medicine and disorders of the shoulder. He is currently accepting new patients in his Lincolnshire office. For more information about reverse total shoulder replacement surgery or to speak to Dr. Neault call (847) 634-1766.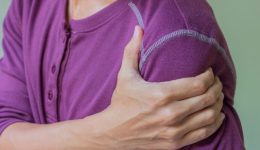 Not only is the condition painful, it can severely limit independence. New treatments can offer relief.