What motivates "The Biggest Loser" Danni Allen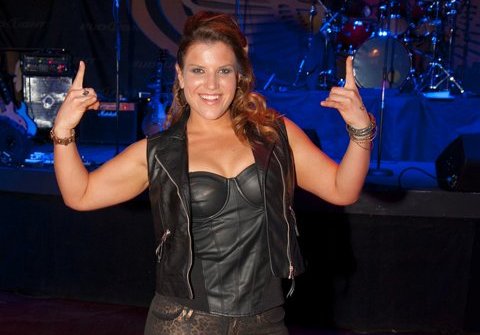 Danni Allen auditioned for NBC's weight loss competition "The Biggest Loser" on a whim. But she walked away a winner. The 26-year-old, from Wheeling, Ill., dropped 121 pounds, and went from a size 20 to a size four. Here's her take on the show and what's next.
What motivated you to be on the show?
Danni: In February of last year, my dad was rushed Advocate Lutheran General Hospital in Park Ridge, Ill because of fluid buildup around his heart. A lot of that issue had to do with his weight. By some miracle, all of the fluid drained. He came out of coma, and he recovered…slowly.
This was a big wake-up call for me. I spent his birthday with him — in the ICU. I knew that could easily be me when I'm his age if I didn't turn things around. It was then that I knew I needed to make a change. I'm so much like him — the good and the bad habits. I've been overweight all of my life.
My girlfriend and I went to "The Biggest Loser" auditions in Chicago on a whim. I had no intentions of being on the show — just going to use it as a stepping off point for my personal transformation. But, I got a call later that same night. Next thing I knew, I'm flying back and forth to Los Angeles for meetings with the show's producers.
What kept you motivated while you were on the show?
My biggest motivation at first was Jillian Michaels, one of the show's trainers, telling me I couldn't do it. I'm the type of person who, once you tell me I can't do something, I'm going to show you you're wrong.
Then, there was my dad. I knew this was my opportunity to make sure I didn't end up in his position.
Once I started to feel better, to see results, I really got motivated. Jillian found a way to break me down in order to build me back up. She exposed all of my insecurities and demons, and she helped me to develop the tools to fight them.
At about week five of the show, I had an epiphany. I was living healthier, feeling better and enjoying every moment — Jillian said she was proud of me. At that moment, I believed I could do it.
Nothing could take me down.
Now that you're off the show, what are you doing to stay motivated?
I was afraid of this when the show was over — I'd go back home, and then what? The first thing I did when I got home was to surround myself with people who help me or motivate me.
I work out at Life Time Fitness. Then, I made my home a "safe zone." I don't have those food items that were temptations for me at home.
I have not eliminated friends from my life, but maybe instead of going out for dinner and drinks, we go for a walk or a jog. We do healthier activities.
What other fitness goals have you set?
I've told everyone I'm going "Forrest Gump" on them. I am lining up several runs throughout the country. I'll be running the Nashville Rock & Roll Half Marathon next. But big goal is the Chicago Marathon October 13. I want to run it for charity to pay forward the successes that I've had. I'll be 26, and I'm going to run 26 miles.
I'm also interested in educating the community about nutrition. I've gone gluten-free and consume minimal dairy. A gluten-free diet works for me because I found that my body doesn't tolerate gluten, but everyone is different. I have done a lot of research and would like to educate people about clean eating and the benefits of organic foods.
What advice do you have for people who may be where you were a year ago?
The first thing you have to do is look at your diet. Nutrition is 80 percent of the battle when it comes to weight loss. Fitness/exercise is 20 percent. You need to look at what you're putting into your body first. Do some research or schedule an appointment with a nutritionist.
Also, make your home a "safe zone." If you don't stock your pantry and refrigerator with temptations, then you're a lot less likely to consume them because they're less accessible.
Photo credit: Snack King Photos
Related Posts
Comments
About the Author
health enews staff is a group of experienced writers from our Advocate Aurora Health sites, which also includes freelance or intern writers.