Multitasking while driving can be deadly, experts warn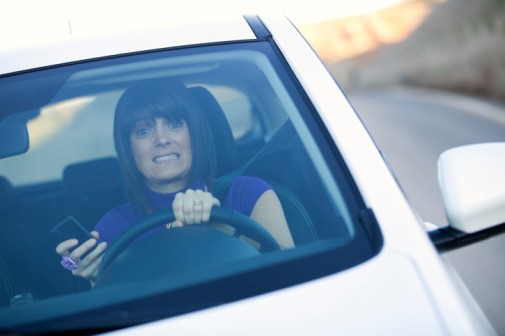 So you think you're a good multitasker? Some people may think they have the ability to text, talk, drive and check voicemail without missing a beat.  But recent research may burst that bubble of self-confidence.
Results from a study of nearly 300 college students at the University of Utah found that people who are confident in their ability to do multiple things at the same time are least able to do so. And those who pride themselves in multitasking behind the wheel may be the most vulnerable for accidents.
"What is alarming is that people who talk on cell phones while driving tend to be the people least able to multitask well," said David Sanbonmatsu, senior author of the study, in a statement. "Our data suggest the people talking on cell phones while driving are people who probably shouldn't. We showed that people who multitask the most are those who appear to be the least capable of multitasking effectively."
In the study, undergraduate psychology students were given a battery of questions about their ability to multitask and how they rated their skill at being able to drive while texting or talking on their cell phones.
The student's professed multitasking talent was found to be exaggerated. Most of the students believed they were better than average.
The study may serve as a wake up call for those who think they can combine driving while simultaneously performing other tasks. The number of people being killed or injured in distracted driving accidents is on the increase as smartphones are becoming universal, statistics show.
The national Centers for Disease Control and Prevention says that in 2009, the most recent year for statistics, more than 5,400 people died in crashes that were reported to involve a distracted driver and almost 450,000 people were injured. More than 15 people die every day from accidents involving distracted driving. The youngest and drivers with least experience are at the highest risk, the CDC says.
Dr. James Cole, trauma surgeon at Advocate Good Samaritan Hospital in Downers Grove, Ill., has seen one too many fatal distracted driving accidents.
"My message to everyone is to save the texting for when you arrive," he says. "You could be saving a life."
Related Posts
Comments
About the Author
health enews staff is a group of experienced writers from our Advocate Aurora Health sites, which also includes freelance or intern writers.