Are you at risk for age-related macular degeneration?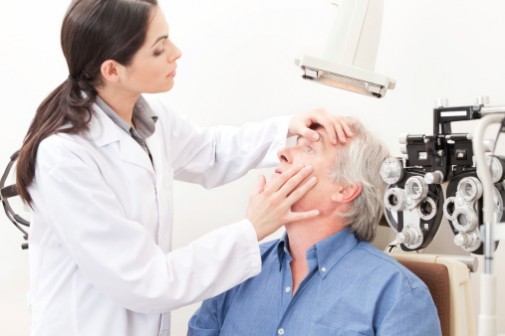 People who struggle with eye diseases can "regain their ability to read quickly and comfortably by using digital tablets," according to a recent study presented to the American Academy of Ophthalmology.
Researchers at the Robert Wood Johnson Medical School found that people with moderate vision loss could improve their reading speed by 15 words-per-minute, on average, by using a tablet with a back-lit screen.
The findings put eye disease, particularly age-related macular degeneration (ARMD), in the spotlight.
Nearly two million Americans, aged 40 years and older are affected by ARMD and an additional 7.3 million are at substantial risk of developing ARMD, according to the Centers for Disease Control and Prevention (CDC).
The number of people with ARMD could reach almost 3 million by 2020, the CDC says.  ARMD is the leading cause of permanent impairment of reading and close-up vision among people aged 65 years and older.
Dr. Harit K. Bhatt, an ophthalmologist and vitreoretinal surgeon at Advocate Christ Medical Center, in Oak Lawn, Ill., says people need to be aware of the signs and symptoms of ARMD and seek treatment early.
Dr. Bhatt says the signs can be subtle causing people to wait too long before having an exam.
"ARMD causes no pain," Dr. Bhatt says. "While the surface and front part of the eye has the ability to signal pain, the macula, or central part of the retina that allows the eye to see fine details, generally does not. This is what makes this disease challenging because it delays the time patients visit their doctor."
The most common symptoms of ARMD are a distortion of images or a blind spot in the vision. Dr. Bhatt says people can easily test for these symptoms themselves.
"Take a look at some of the lines on standard notebook paper or the frame of a door. Generally these are straight lines. A person with macular degeneration may see the lines as curved or having a break in the lines," Dr. Bhatt explains. "A blind spot appears as a smudge directly in the center part of the vision."
There is no single cause for ARMD, Dr. Bhatt says. Genetics, inflammation and certain environmental factors may play a role. Other risk factors include: increased age, smoking, obesity and family history.
Self-exams can be a good first step, but Dr. Bhatt says proper diagnosis and treatment should be done by a retina specialist. "If you have any concern, it's important to see your doctor."
Currently there is no cure for ARMD, but there are many viable treatments. These treatments include lifestyle modifications, eye vitamin supplements and injections of medications into the eye itself. These treatments have been shown to decrease disease progression and improve vision.
"With an aging baby boomer population, the research and focus on ARMD is increasing," he adds. "There are several studies and drug trials that are ongoing that will hopefully help the current and future patients with this disease."
Related Posts
Comments
About the Author
health enews staff is a group of experienced writers from our Advocate Aurora Health sites, which also includes freelance or intern writers.