Fight heartburn with weight loss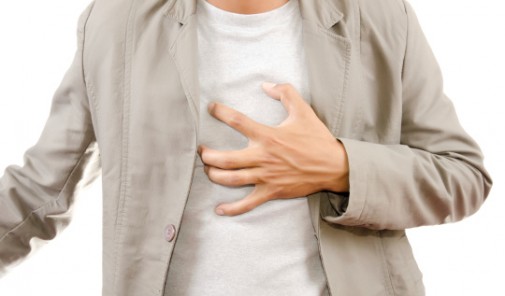 Losing weight might be the key in fighting heartburn, says a new report.
Researchers found that people who may be obese or overweight and who experience heartburn, frequently report it disappears after losing weight.
Patients were followed for over a year who had the form of heartburn called gastroesophageal reflux, or GERD for the study. The American College of Gastroenterology reports that more than 60 million people in the U.S. have a case of GERD at least once a month.
"If you lose weight, you will have improvements in your reflux symptoms," said study author Dr. Preetika Sinh, in a statement.
The study looked at more than 200 overweight or obese men and women around the age of 46 with their weights averaging 220 pounds. From the start of the study, 38 percent had severe cases of GERD. Six months later, the group's average weight reduced to 183 pounds and only 16 percent still had the heartburn.
Throughout the subsequent six months, 172 of the study group participants regained weight, with their heartburn increasing from 16 to 22 percent.
Sinh reported that even minimal weight gain contributed to worsening GERD symptoms.
Dr. Rockford Yapp, gastroenterologist on staff at Advocate Good Samaritan Hospital in Downers Grove, Ill., says there are a variety of contributing factors that cause reflux disease and they are becoming better understood by physicians.
"Caffeine, alcohol and fatty foods have all been shown to have a direct effect putting pressure on the valve between the esophagus and stomach, causing heartburn," he says.
The results for the patients who did not gain their weight back continued to show a decrease in their symptoms. In order for this research group to lose the weight, they were asked to exercise for about five hours a week, with average results recorded at about four hours.
Sinh added that women, unlike men, had even better results with decreasing their heartburn with exercise.
The study reported a connection with weight loss, exercise and heartburn, but did not find a cause-and-effect association.
"Further study is needed, but this research provides additional information about the importance of weight loss for an increasing number of medical problems," Yapp says.
The conclusions of this study are preliminary until published in a peer-reviewed journal.
Related Posts
Comments
About the Author
Sarah Scroggins, health enews contributor, is the director of social media at Advocate Health Care and Aurora Health Care. She has a BA and MA in Communications. When not on social media, she loves reading a good book (or audiobook), watching the latest Netflix series and teaching a college night class.