Is rheumatoid arthritis causing your achy joints?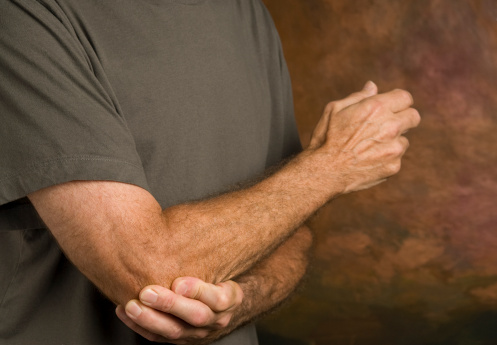 Many people think of arthritis as something that affects only the elderly. But according to the Arthritis Foundation, there are more than 100 different types of this common condition, including one type of chronic arthritis that typically affects people between the ages of 25 and 55: rheumatoid arthritis.
The Centers for Disease Control and Prevention reports that arthritis is one of the most common conditions in America with one in five people being diagnosed by a physician each year. But how can you tell when swelling or pain signifies a stiff joint or something more serious?
"All types of arthritis cause pain from inflammation, which can lead to damage in the joints," says Dr. Ellen Voronov, a specialist in physical medicine and rehabilitation who treats patients at Advocate Good Samaritan Hospital in Downers Grove, Ill. "Rheumatoid arthritis occurs when your immune system attacks your body's own tissues."
Although studies are still determining what causes rheumatoid arthritis, genetics, the environment and hormones may play a role, Dr. Voronov says.
Rheumatoid arthritis is a type of chronic arthritis that typically occurs in joints on both sides of the body, such as hands, wrists, shoulders, knees, ankles and feet.
Voronov says different types of arthritis require different treatments, which is why a proper and timely diagnosis is so important. She advises people to see their doctor if the following symptoms have lasted for more than two weeks:
Ongoing joint pain
Joint swelling or stiffness
Warmth and redness in a joint
Problems moving a joint
In addition to affecting the joints, rheumatoid arthritis may occasionally affect the skin, eyes, lungs, heart, blood or nerves.
Dr. Voronov says there are many different ways to treat rheumatoid arthritis, including medications, rest and exercise, and surgery to correct damage to the joint. The type of treatment will depend on several factors, including the patient's age, overall health, medical history and severity of the arthritis.
She offers the following tips to give your joints much needed relief at home:
Manage any underlying chronic conditions, such as diabetes
Maintain a healthy weight
Start practicing Pilates or yoga to gain flexibility
Exercise in a warm pool to avoid pressure on the joints
Eat a diet high in fiber, vegetables, fish, nuts and whole grains
Reduce your intake of red meat, dairy and eggs
Avoid tobacco and alcohol
During a flare-up, oral or topical anti-inflammatory medications may be beneficial
Related Posts
Comments
About the Author
Lisa Parro, health enews contributor, is manager of content strategy for Advocate Aurora Health. A former journalist, Lisa has been in health care public relations since 2008 and has a master's degree in journalism from Northwestern University. She and her family live in Chicago's western suburbs.