Yoga sharpens cognitive function, study shows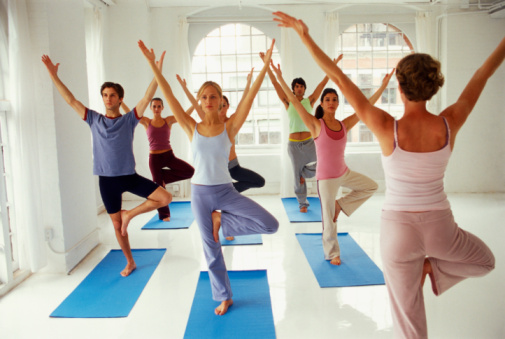 Decades of research have proven the value of yoga on the human body. The ancient practice of yoga has been found to reduce tension, improve circulation, increase flexibility and promote relaxation. However a lack of information available about the effects of brain function recently motivated researchers at the University of Illinois at Urbana-Champaign to study the correlation between cognitive ability and yoga.
As part of the study, 30 female college students completed tests to measure concentration and short-term memory after a 20-minute yoga session. Next, the students completed the same cognitive tasks after aerobic activity—a 20-minute walk or run on a treadmill. Finally, the college students took the tests a third time without doing any form of exercise.
The results, published in the May issue of the Journal of Physical Activity & Health, showed that cognitive performance after a 20-minute yoga class was significantly better than the measured performance after the aerobic and baseline condition.
"It appears that following yoga practice, the participants were better able to focus their mental resources, process information quickly, more accurately and also learn, hold and update pieces of information more effectively than after performing an aerobic exercise bout," said Neha Gothe, lead author on the study, in a statement.
"The breathing and meditative exercises aim at calming the mind and body and keeping distracting thoughts away while you focus on your body, posture or breath. Maybe these processes translate beyond yoga practice when you try to perform mental tasks or day-to-day activities," she said.
Researchers say the results can be attributed to many factors. "Enhanced self-awareness that comes with meditational exercises is just one of the possible mechanisms. Besides, meditation and breathing exercises are known to reduce anxiety and stress, which in turn can improve scores on some cognitive tests," said Gothe.
Laura Tarry, fitness specialist at Good Samaritan Health and Wellness Center agrees and explains how the focus required when practicing yoga may help explain the improvement as well. "Yoga requires you to focus on your breath and the movement of your body. Many cardiovascular exercises allow you to get into your music and can eventually become a mindless activity. Because you have to slow down your body and thoughts during yoga, you gain clarity. The peace of mind allows you to be more present, thus helping with concentration and memory," says Tarry.
Related Posts
Comments
About the Author
health enews staff is a group of experienced writers from our Advocate Health Care and Aurora Health Care sites, which also includes freelance or intern writers.