Smart sun play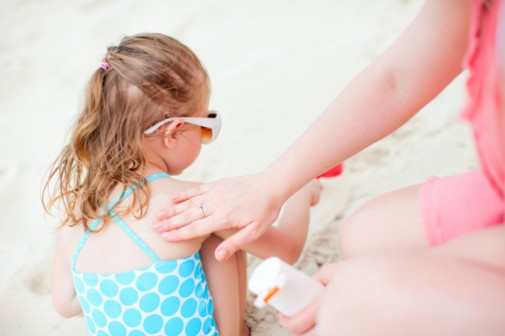 For some kids, the first sunburn of the season seems like a rite of passage. But, according to the Skin Cancer Foundation, getting even one blistering burn during childhood increases your chance of skin cancer by 50 percent, as does getting more than five sunburns in your lifetime. Skin cancer is the most common type of cancer, according to the American Cancer Society (ACS). In fact, almost half of all cancers in the United States are skin cancers. Melanoma, a type of skin cancer, is the most dangerous type.
The ACS reports that more than 76,000 cases of melanoma will be diagnosed in 2013. And according to the Centers for Disease Control and Prevention (CDC), more than 8,000 people die from melanoma every year. But limiting sun exposure and making sure you don't get a sunburn will go a long way to preventing skin cancers like melanoma.
Dr. Deepti Singh, an oncologist and hematologist at Advocate Illinois Masonic Medical Center in Chicago, says it's more important to protect yourself against sunburn that many people imagine.
"Those of us in the Midwest look forward to basking in the summer sun after a long winter," Dr. Singh says. "But overdoing it can pose immediate dangers and put you at risk for skin cancer later in life."
So go out and play in the sun, but do it S.M.A.R.T.
Slather the sunscreen – Any time you go outside, cover your exposed skin with sunscreen. Always wear sunscreen with an SPF of at least 30. When you're outside, reapply every two hours (more frequently if you've been in the water or are sweating a lot), and don't forget your ears, neck, hands, and feet – even your head if you've got exposed skin. Despite what you may have heard, sunscreen really does protect you.
Mind the time – Limiting your time in direct sunlight is important – especially when the sun is high in the sky. Between 10 a.m. and 2 p.m., spend as much time inside or in the shade as you can to limit your exposure to the sun's harmful rays.
Avoid tanning – The allure of a golden brown tan is undeniable. But a suntan (from the sun or tanning booths) is actually skin damage that can lead to skin cancer. If you love the look of a summer glow, try out sunless tan products. There are some great lotions, mousses, and sprays to make you look sun-kissed – without the risks.
Remember to cover up – If you'll be spending a lot of time in the sun, consider covering up your skin with lightweight clothing made from natural fabrics like cotton or linen. These fabrics offer a one-two punch. They offer some sun protection for your skin and they help keep you cool by absorbing moisture.
Take a break – When you're spending time outside, don't forget to take breaks. Go inside for a few minutes or find shelter in the shade. If you're heading to the beach, bring a beach umbrella.
Being smart as summer temps soar will go a long way toward preventing skin cancer – and toward keeping painful sunburns at bay.
Sunburn and cancer aren't the only risks when you're out in the summer heat. When the sun's beating down and the temperatures are skyrocketing, it doesn't take long for our bodies to be overwhelmed.
Preventing Heat-Related Illness
Heat-related illness is a real risk that most people don't think much about. We'd like to change that. Though anyone can suffer from heat-related illnesses, kids and the elderly are especially susceptible.
To help prevent heat-related illness, be SAFE in the sun.
Stay hydrated. It's important to drink water or electrolyte-filled sports drinks regularly. Doctors recommend that kids drink 5 to 8 ounces every 20 minutes when playing in the heat.
Avoid high humidity and extreme heat. When the temperatures and humidity soar, stay inside whenever you can.
Find the shade. Temperatures in the shade can range from 15 to 50+ degrees cooler than in the nearby sunny spots. So seek the shade and keep cooler.
Eat for the heat. Choose small, light meals rather than hot, heavy foods.
Remind Your Kids
Kids are more susceptible to heat illness than most adults, so remind them to drink water and stay out of the sun as much as they can. Make sure they know the symptoms to look out for, and tell them to alert an adult if they begin to feel sick.
The early symptoms of heat exhaustion are:
Thirst
Fatigue or weakness
Nausea
Muscle cramps
Dizziness or feeling faint
Heat exhaustion can quickly progress to heat stroke, which is a dangerous and potentially deadly condition. If you or your child have any signs of heat stroke, get medical help immediately. Check out the CDC's extreme heat FAQ to learn more about what to do if you think someone may be experiencing heat-related illness.
Heat stroke symptoms are:
Dizziness
Headache
Rapid heartbeat
Trouble breathing
Nausea and/or vomiting
Confusion or hallucinations
Strange behavior
Absence of sweating
For many, summer is the best season of the year. And with a little prevention, you can make sure this summer will be both fun and safe – for you and your kids.
Related Posts
Comments
About the Author
health enews staff is a group of experienced writers from our Advocate Health Care and Aurora Health Care sites, which also includes freelance or intern writers.