Bullying from siblings can be just as damaging as peer bullying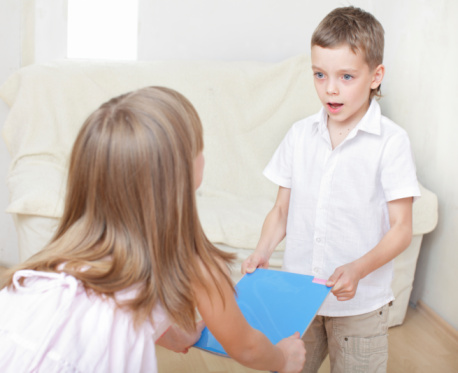 Given the media attention bullying has received in recent years, parents, teachers and pediatricians have put out the rallying call to stop childhood aggression on neighborhood playgrounds and schools. Researchers are looking into what happens when children are bullied in their own home.
According to a 2013 study published by the medical journal Pediatrics, sibling aggression can lead to mental health distress, causing depression and anxiety just as easily as peer aggression.
As part of the study, researchers surveyed nearly 3,600 adolescents ages 10 to 17, as well as adult caregivers of children ages 9 and under, who had at least one brother or sister under the age of 18 in the household. They found that 32 percent — nearly one in three — reported having experienced at least one instance of bullying by a brother or sister in the past year. Nearly eight percent reported two or more instances within the year.
Whether the aggression was mild or severe, the bullied children showed significantly worse mental health problems than those who had not been bullied, the research showed.
The researchers defined bullying as physical assault, property theft or destruction or psychological aggression, such as name-calling. When children reported they had experienced bullying by a sibling, study leaders followed up with questions to determine whether or not the bullying had caused depression or anxiety. Emotional distress was found to be greater in the younger children, according to the study.
Dr. Laura Mulford, a psychologist at Advocate Illinois Masonic Medical Center in Chicago, says parents often downplay sibling bullying, treating it as normal family behavior – even something children can learn from.
"Unlike peer aggression, some parents think a certain amount of sibling aggression or 'sibling rivalry' is to be expected," she says. "They may think it teaches them to stand up for themselves and prepares them for problems with peers. But increased aggression with siblings actually has the opposite effect. We need to set positive models for how to work through problems in the home, too."
Dr. Mulford says parents who notice bullying in their children should address the problem right away.
"Kids need to know this behavior isn't okay and there are other ways to deal with problems. We have to teach them how to effectively resolve their conflicts in a safe manner."
Related Posts
Comments
About the Author
health enews staff is a group of experienced writers from our Advocate Aurora Health sites, which also includes freelance or intern writers.