Americans look to smartphones for health info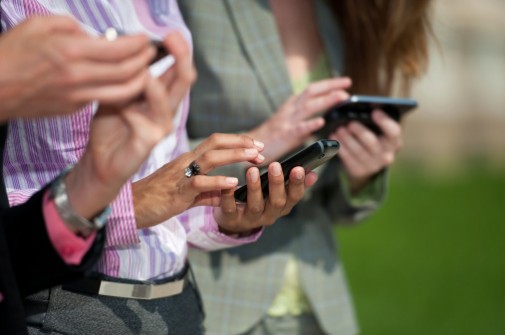 A new survey, from Harris Interactive/HealthDay, finds that Americans are definitely interested in getting more of their health care information from their smartphone.
Out of the 2,050 adults surveyed, more than one-third of them said they would want to use their smartphone as a way to consult with physicians, schedule appointments or receive their medical test results.
Some were also intrigued by being able to monitor their blood pressure, blood sugar or even get a diagnosis on their devices. Currently these types of applications are not available for use on smartphones and tablets.
Researchers said this survey shows a high demand for digital assistance in health care and only suspect this interest will grow. And another not-so-surprising result of the survey showed that most young adults are more eager to use their smartphones for health care reasons than those ages 65 or older.
Researchers believe people with chronic conditions may benefit from this type of tool to keep in better contact with their physician, but they suggest that the technology aspect could be a barrier.
Large health care systems across the country are taking cues from America's obsession with having access to more of their medical information available electronically by taking steps to accommodate them.
Downers Grove, Illinois-based Advocate Health Care is well on its way to beefing up its electronic medical records (EMR) system to help make it easier for patients to move from inpatient to outpatient care within Advocate. Patients then do not have to repeatedly fill out vital forms and provide medical information over again.
"We are committed to the benefits that technology brings to our caregivers and their patients," said Bruce Smith, Advocate's senior vice president and chief information officer. "Our EMR plans are designed to give our physicians the best tools to serve those who trust them with their health and wellness needs."
With the recent American Recovery and Reinvestment Act providing $18 billion in EMR-related incentives, it is clear that the federal government agrees with efforts like these.
Advocate also offers patient-centered smartphone apps such as Advocate Physician Finder, available for the iPhone that allows users to search for Advocate physicians by location, specialty or insurance provider. Consumers can also contact doctors directly or request an appointment right from their iPhone.
Another special app from Advocate Children's Hospital, called MyHealth Pal, gives parents the ability to look up their child's symptoms and learn what they can do to help.
Experts say there is still a long way to go before smartphone health care tools become the norm, but with younger generations spending more and more time on their phones and online, you can bet there will be strong efforts by manufacturers to the meet growing demands in the future.
Related Posts
Comments
About the Author
Sarah Scroggins, health enews contributor, is the director of social media at Advocate Health Care and Aurora Health Care. She has a BA and MA in Communications. When not on social media, she loves reading a good book (or audiobook), watching the latest Netflix series and teaching a college night class.