I run and I am free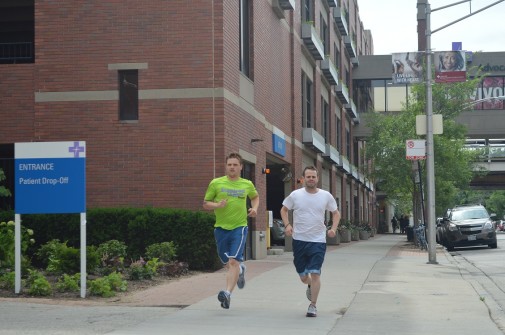 I know it may sound odd, but December 18, 2012 was the best and the worst day of my life.
That day, at age 32, I had a heart attack.
My family doesn't even live in the same time zone as me, but I'm lucky to have a great group of friends — friends who packed the waiting room while I underwent a procedure to insert a stent to remove the blockage to my heart.
Lying on the table, with someone standing over my head holding the paddles to shock my heart, I realized I'd officially hit bottom. For a second, I thought about giving up and letting heart disease win. But it was only for a second.
I decided to fight. I decided to embrace my second chance. I decided that not only would I recover, but I would be better.
While in the hospital, I decided I'd run the Chicago Marathon. I could feel in every muscle in my body I was going to win this battle and run. I knew I danced with death — and I hated her moves.
Thanks to my heart attack I've changed my life. I've started to eat healthy, exercise and make the changes I always knew I needed, but was too scared to make.
Some days are hard. Some days I get sad and down and I feel like I'm punched in the gut when reminded I have heart disease. Some days I feel lonely.
But most days, I feel strong. I am strong because I'm not alone. I have so many people in my corner. I'm going to run the marathon. I'm an athlete and I'm strong.
One of my biggest supporters and one of my best friends is Seth Teske, who was among the nurses who got me through cardiac rehabilitation following my heart attack. He's changed my life, but I've also changed his. We're training to do this together. This week, we're up to 11 miles. When we run, we're equally excited and challenged.
Having a heart attack was the single most frightening thing ever to happen to me. It also was the kick in the butt I needed to remember to appreciate life. To remember that in life, there is no dress rehearsal and tomorrow is never guaranteed.
I'm excited to share my story —  the good, the bad and the ugly. Some days are hard. Some days are ugly. Some days, I feel down.
But then I run. I run and I'm reminded that I'm in control of my life.
I run and I'm free.
Click here to watch a video about Dan's journey so far.
Related Posts
Comments
About the Author
A 33-year-old Chicago man shares how he is preparing to run the Chicago Marathon after surviving a heart attack last year.