5 bike safety tips you should know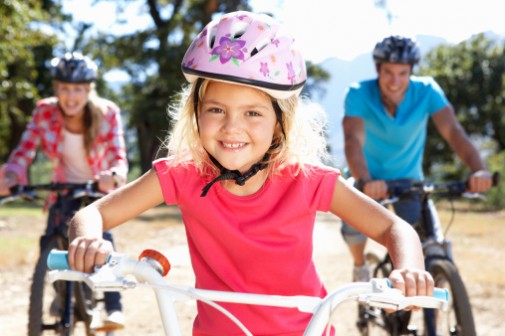 Taking caution while bicycling shouldn't be taken lightly, whether you are riding around the neighborhood, the local park or even around the block with family.
The U.S. Department of Transportation reports that 677 bicyclists were killed and an additional 48,000 were injured in 2011.
Dr. Aaron Traeger, pediatrician with Advocate Medical Group in Normal, Ill., says safety should always come first before hopping on a bike.
"You hear over and over that you should always wear a helmet," he says. "Anything that involves rolling, whether it's riding a bike, roller skating, skateboarding, etc., you need a helmet."
It can sound overbearing at times, he says, but you only have one brain and even small injuries can be very devastating to a child's developing brain.
Dr. Traeger says helmets are made for infants as young as nine months, but parents should avoid bringing your child along if they are younger than that.
"Even if your infant has a large head that may fit into a helmet, a child younger than nine months shouldn't be in carrier," he says.
He recommends reading the instructions that come with the helmet.
"Ensure that the helmet is snug, adjusting the strap to fight tightly, yet comfortable," he says. "Also, make sure the helmet has a smooth, rounded top and no extra edging or décor."
The following are five quick tips Dr. Traeger strongly recommends to keep in mind:
1)    Wear a helmet – always. No exceptions.
2)    Teach and practice the rules of the road. Even if you're just riding on sidewalks, everyone needs to know how to cross streets or ride with traffic when needed.
3)    Horseplay should be highly discouraged. If your kids are interested in trail riding or bike racing seek out designated paths. It can be a lot of fun if done correctly and with the proper safety gear.
4)    Wear sunscreen and sunglasses when outside – you want to be able to see properly, but also be protected from the sun's harmful rays.
5)    Have fun!
"Bicycling is a great family activity that can be done for many months of the year," Dr. Traeger says. "But don't forget safety is the key to an overall, enjoyable experience."
Related Posts
Comments
About the Author
Sarah Scroggins, health enews contributor, is the director of social media at Advocate Aurora Health. She has a BA and MA in Communications. When not on social media, she loves reading a good book (or audiobook), watching the latest Netflix series and teaching a college night class.