Medic alert IDs still saving millions of lives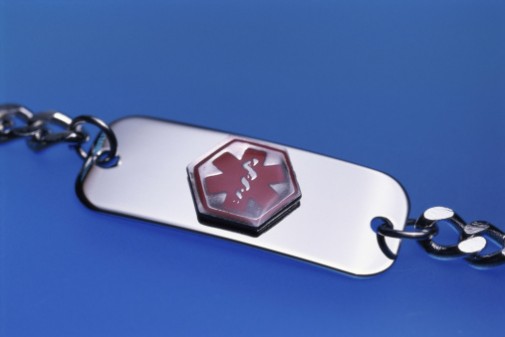 August is Medic Alert Awareness month and a good time to share more information with you about the life-saving benefits of medic alert IDs and who should wear them.
According to the Centers for Disease Control and Prevention, more than 119 million people in the United States require emergency medical assistance every year. And many of those people are either unconscious or have difficulty talking to medical personnel, leaving the first responders unsure of the patient's medical history or conditions. Experts say medic alert IDs can be life-saving in these situations.
In fact, doctors say medic alert IDs, usually bracelets or necklaces, can make the difference between life and death—by helping bystanders and emergency personnel assist during emergencies.
Dr. Rishi Sikka, an emergency medicine physician with Advocate Medical Group says he's seen first-hand the benefits of having the critical information found on medic alert IDs. "This information helps decrease medication errors, reduce medical treatment errors and helps health professionals diagnose the patient's condition more quickly."
Who Should Have a Medic Alert ID?
Many people with a number of different conditions should wear a medic alert ID.
Dr. Sikka says he recommends medic alert IDs for people with many conditions and medical treatments. Some of those conditions and treatments include:
Diabetes
Allergies to drugs, foods, and insects (especially important for those with a history of severe anaphylactic reactions)
Asthma
Epilepsy
Heart disease or disorders
Stroke risk
Blood disorders like hemophilia
Pacemakers or other medical devices or implants
Adrenal insufficiency
Disabilities, such as cerebral palsy, spina bifida, hearing impairment, and developmental delays
He also says people on blood thinning medications or people taking multiple medications can benefit from medic alert IDs. "There are also some people who wear them to alert health care providers about end-of-life directives, such as a do not resuscitate order (DNR)," he said.
Talk with your physician about how to obtain a medic alert ID. Additionally, the Medic Alert Foundation website has more details on the various types available.
New Tools for Medical Emergencies
In addition to medic alert identification, there are other tools that can help first responders and health care providers in case you need emergency medical attention. For example, you can enter your emergency contacts in your cell's phone book under ICE (in case of emergency) so someone can call your family if you're unable to.
Many newer phones also have specific places you can store you important medical information – the same type of information you would have on a medic alert ID. If you have a medical condition, check out the capabilities of your phone, and use them to your advantage. It's also not a bad idea to carry a piece of paper with your name, contact information, and medical information in your wallet and/or in your car's glove compartment. First responders will often look in those places if you're unable to give them the information they need.
You might also want to consider enabling the GPS locator on your phone so if you call 911, even if you're unable to tell the operator where you are, they should be able to find you. This can be a great tool if you're in an auto accident or get sick when you're away from home.
Dr. Sikka's advice? "Always be prepared. It's a great motto to live by. And if you've got a health condition that could put you at higher risk for the need for emergency treatment, being prepared could save your life."
Related Posts
Comments
About the Author
health enews staff is a group of experienced writers from our Advocate Health Care and Aurora Health Care sites, which also includes freelance or intern writers.