Why pregnancy due dates can be way off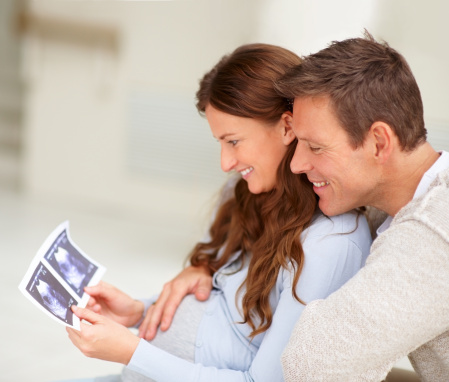 If you feel like your pregnancy is dragging on and on, you might be right. New research suggests that the natural length of pregnancies might span as much as five weeks — meaning that some women wait more than a month longer than others to meet their new bundles of joy.
Pregnant women typically are given a due date that is 280 days after the start of their last menstrual period. But surprisingly, only four percent deliver on that date and only 70 percent have their babies within 10 days of it — even when the date is calculated with the help of ultrasound.
In the past, this variation was chalked up to a woman not accurately recalling the start of her last period. But researchers eliminated that possibility in this study by using urine samples to pinpoint the exact date of conception. Monitoring the changing hormone levels in the urine of 125 women trying to become pregnant let researchers know precisely when the pregnancy began.
Even after excluding babies who were born pre-term, the length of pregnancy ranged from about 35 to 40 weeks from the day of conception to the day of birth, or about 38 to 43 weeks from the day of a woman's last menstrual period. The average time was 268 days, or 38 weeks and 2 days.
The variation came as a surprise, said Dr. Anne Marie Jukic, a postdoctoral fellow in the Epidemiology Branch at the National Institute of Environmental Health Sciences in Durham, N.C., part of the National Institutes of Health.
The findings suggest that giving a woman a precise due date may not be the best way to communicate pregnancy duration. Providing a range of dates might be better, Jukic said in a news release.
Some physicians say the news is a good reminder about the importance of prenatal care.
"We've known for a long time that every woman's pregnancy is different, and this study indicates that's true when it comes to the length of pregnancy, too," said Dr. Robert Rosenberg, the Chairman of Obstetrics and Gynecology at Advocate Condell Medical Center, Libertyville, Ill., "This is more evidence of the importance of prenatal care throughout the pregnancy. Since there is a range of what's normal, it's important for physicians to have a strong relationship and care plan for each individual patient."
Other factors, such as the length of a previous pregnancy and the age of the mother, also might provide some insight into when a woman might deliver, Rosenberg said. All are taken into consideration by a woman's obstetrician over the course of the pregnancy to ensure the best birth outcome, he added.
"I think the best that can be said is that natural variability may be greater than we have previously thought, and if that is true, clinicians may want to keep that in mind when trying to decide whether to intervene in a pregnancy," Jukic said.
Related Posts
Comments
About the Author
health enews staff is a group of experienced writers from our Advocate Health Care and Aurora Health Care sites, which also includes freelance or intern writers.