Can ADHD make driving dangerous for kids?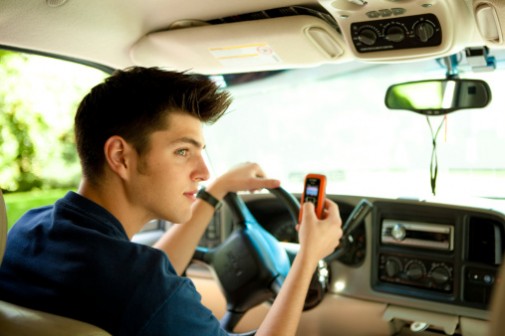 Motor vehicle crashes are the leading cause of death for U.S. teens, according to the Centers for Disease Control and Prevention. And those diagnosed with attention-deficit/hyperactivity disorder (ADHD) are at an even greater risk, especially if they text and drive, experts say.
Researchers at the Cincinnati Children's Hospital Medical Center recruited over 60 adolescents between the ages of 16 and 17 to partake in a driving simulation. Approximately half of the participants had been diagnosed with ADHD and were asked not to take their prescribed medication.
During the 40-minute simulation, the teens drove under three different conditions – no distraction, cell phone conversation and texting. Overall, the drivers with ADHD had significantly more trouble maintaining a constant speed and staying in their lanes than their counterparts without ADHD.
The study results, published in JAMA Pediatrics, reveal that teens with ADHD spent 1.8 percent of their undistracted drive time out of their lane. When they were asked to text, their driving problems nearly doubled, straying across the line about 3.3 percent of the time. However, there appeared to be no ADHD-related deficits for breaking reaction time.
"Driving deficits related to ADHD appear to impact specific driving behaviors, namely, variability in speed and lane position. Because both maintaining a consistent speed and central, consistent lane position require constant attention to the road and one's surroundings, the pattern of our findings are not surprising," said study authors in a news release.
The impairments of texting were evident for all drivers. Undistracted teens without ADHD spent 0.7 percent of their drive time out of their lane. When asked to text, they drifted out of their lanes over 2 percent of the time, making their distraction as severe as those with an ADHD diagnosis.
Dr. Arie Friedman, pediatrician with Advocate Condell Medical Center in Libertyville, Ill., urges teen drivers with ADHD to take their medication regularly and offers these tips to prevent texting while driving:
Turn off your cell phone before you begin driving.
If you think you will still be tempted to text and drive, put your phone in your trunk or somewhere you can't reach it.
If you have to use your phone while driving, pull off the road and safely stop.
"These are good tips for teen drivers with ADHD, those without and even people beyond their teen years," says Dr. Friedman. "Any distraction is going to impair someone's driving ability, no matter what their age."
Related Posts
Comments
About the Author
health enews staff is a group of experienced writers from our Advocate Aurora Health sites, which also includes freelance or intern writers.